Return to the Shugo Imperial Tomb

6/5 till 3/6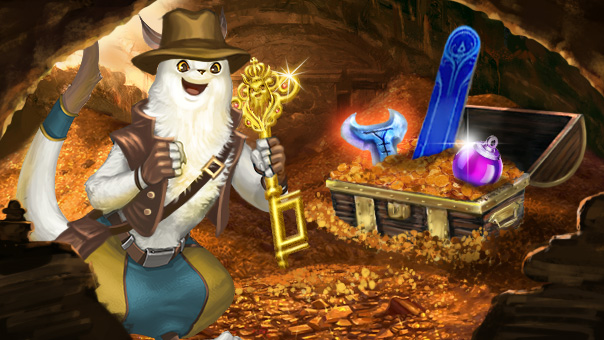 Opening from 6/5 until 3/6/2015, the Shugo Imperial Tomb will once again be unlocking its gates to players level 51 and up. Seek out Indiana Jonshunerk in Sanctum or Pandaemonium to enter the instance in the form of a Shugo Warrior. Together with one to two fellow players, stop the tomb raiders who have their eyes on the treasures of this lost empire.

There are some valuable rewards to be earned, including Lightning Wings, Upgrade Serums, a Glorious Elim Idian Bundle, a Sapphire Hoverboard and much more.
A list of all rewards can be found below the news article.

Starting 7/5, you will find some useful items for your excursion into the instance in the AION Shop: the Entry Scroll for the Shugo Imperial Tomb increases the number of visits you can take to the instance by one, meaning you can dive right back into the tomb. In the burial chamber of the Emperor, Empress and the Crown Prince there are valuable chests waiting, which you can alternatively open using the Indestructible Treasure Chest Keys from the shop instead of the in-game keys.

Tip: The drop chance of the chests that require 3 keys to be opened has been increased. They now contain higher value and more items than before. For this reason, it is now more worthwhile to open one chest with three keys than to open three chests with one key each.

Reward
1 x
Key
3 x
Keys
Gold Crown Acarun Egg (3 days)
1
1
Egg of the Red Bulldozer of Glory (30 days)
1
1
Bundle of Battle Manastones
1
3
Powerful enhancement: Level 2
1
3
Glorious Elim Idian Bundle
1
3
Large Box of 100% Manastone socketing aids (eternal)
1
1
Large Box of 100% Manastone socketing aids (mythical)
1
1
Dramata Wings
1
1
Dramata Bone Wings
1
1
Package of Noble Enchantment Stones
1
3
Sapphire Hoverboard
1
1
[Event] Ceranium Medal, Alchemical Transformation
1
1
Mail attachment approval (Fabled/Level 61-65)
1
3
Mail attachment approval (Eternal/Level 61-65)
1
3
Mail attachment approval (Abyss item/Eternal/Level 61-65)
1
3
Garment of the Hell Lion
1
1
Arena Ticket Supply Box
1
2
Composite Manastones
1
5
Holy Upgrade Serum
1
2
Saam King's Herbs
6 - 8
40
Premium Restoration Potion
60 - 70
300
Premium Restoration Serum
60 - 70
300
Surama's Weapon Skins (+ Shield)
1
1
Surama's Armor pieces
1
1
AbyssPoints (average)
7000 - 9000
35000
Mithril Medal
1
1
Ceranium Medallion
1
1
Lightning Wings

-
1