The Solorius Contest

Join in and win fantastic prizes!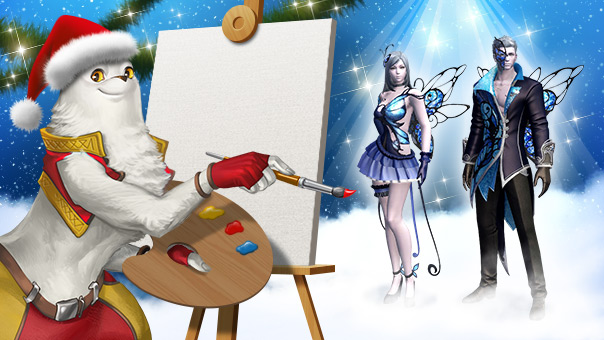 Snow is falling, all around, and Daevas are singing Solorius songs as the scent of mince pies lingers in the air. Seasons greetings and wishes are sent via Shugo courier and the first signs of frost are gathering on the window.
The Solorius Festival is here – and such an occasion demands some equally festive gifts. The holidays have got a lot in store for you as far as this is concerned – and if you take part in our big Solorius contest, you'll have the chance of looking forward to some great items (Bejewelled Butterfly Clothing, Butterfly Ornament, Little Butterfly Wings), a plushie Shugo and an AION t-shirt!
What do I need to do, you ask? We all love the excitement of gifts. Create some fan art with one or more Shugos enjoying a moment of Christmas festivities. Send us your creations before 7/1/2019 and we will select the winners: the best six entries will be rewarded and the top 3 will also get some enchanting in-game items.
Conditions:
Send your art to: contest@aionfreetoplay.com
Add 'Solorius Contest' to the subject line.
In your submission email, please include the email associated with your game account and state your character name and server.
Allowed formats: jpeg, png
Maximum file size for the images: 5 MB 
The 6 winners will receive the following prizes:
1x AION T-shirt
1x Cuddly Shugo
The top 3 will receive these prizes too:
1 each of the in-game items Bejewelled Butterfly Clothing, Butterfly Ornament and Little Butterfly Wings
1x AION T-shirt
1x Cuddly Shugo
The winners will be chosen by the AION team and announced in the forums, on the website and on social media by 11/1/2019! The winners will also be notified by email.
The AION Team