6 YEARS OF AION FREE-TO-PLAY

Celebrate the anniversary with us!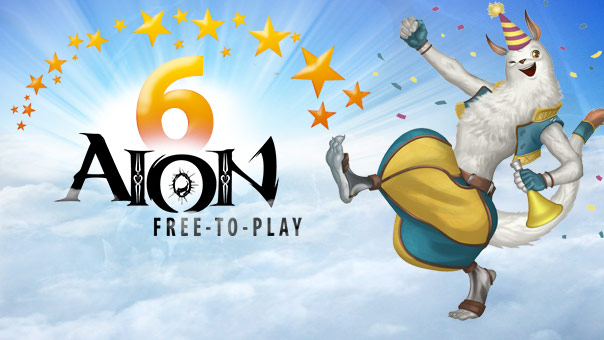 Greetings, Daeva!
It's AION Free-to-Play's birthday – we're looking back on 6 years of thrilling experiences and shared adventure, defeated opponents and slain bosses, not to mention new content and great updates! The last year brought plenty of changes and new challenges to Atreia and the coming days hold plenty of excitement too – join in the anniversary celebrations!
Your Gift
In honour of the day, AION is feeling super generous: from 1/3 to 8/3, for every account with a hero level 20 and above, we're holding a free AION Birthday Party. (Your account has to have been created prior to 27/2/2018.)
Cake Hunt
On top of this, the Cake Hunt returns on 1st March! There'll be birthday cakes appearing all over Akaron, Esterra and Nosra for the whole day – but be careful: the majority of them are traps and only one of them will give you a buff. (The buff cannot be stacked. You can then earn it again once it expires.)
The Community Contest
Take part in our Community Contest from 28th February to 6th March and win some great prizes:
What do you need to do to win? It's easy: don your baking caps, create an AION birthday cake and send us pics! The best three submissions get a plush Shugo, the Glass Wings skin and the Tame Lion.
Conditions
Send us the photos of your creation to the following mail address: contest@aionfreetoplay.com
Add 'birthday cake' to the subject line.
In your submission email, please include the email associated with your game account and state your character name and server.
Allowed formats: jpeg, png
Maximum file size for the images and screenshots: 5 MB.
Maximum file size for the photo series/video: 200 MB.
Full terms and conditions can be found here.
Boosts - kickstart your game!
| Period | Boost |
| --- | --- |
| 28/2 - 1/3 | +150% experience points |
| 28/2 - 7/3 | +200% drop chance (Nosra/Esterra only) |
| 2/3 - 4/3 | +200% Abyss Points |
| 2/3 - 4/3 | +200% crafting |
| 2/3 - 4/3 | +250% experience points |
| 5/3 - 7/3 | +150% experience points |