AILINERK'S ICE CUBES

Unique and frosty rewards await!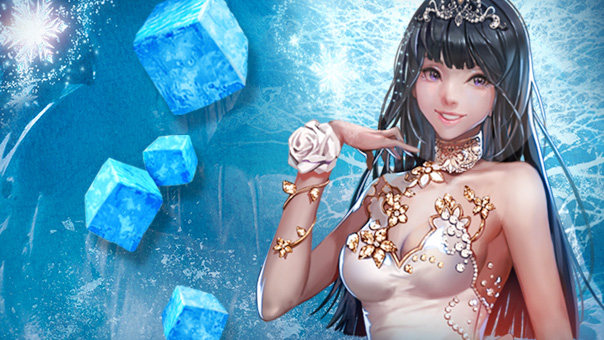 This winter, Ailinerk the Ice Witch has stashed away some precious valuables in ice cubes. Seize this opportunity to get the best of them!
Look forward to rewards such as: [Rune] Transformation Contract: Ereshkigal, [Rune] Greater Premium Daevanion Skill Chest (90 days) or [Event] Level A Minion Contract (5 types).
Collecting Ice Cubes
The ice cubes come in eight different levels. You can pick up the [Rune] Ice Cube (Level 1) as an individual item or in bundles in the AION Shop:
Shugo Ice Pack
Frosty Shugo Gold Pack
Frosty Shugo Enchantment Pack
Frosty Shugo Stigma Pack
In the spirit of the season, Ailinerk also has a free gift for you – pick up 3x [Rune] Ice Cube (Level 1) per week and account absolutely free!
You also have a chance to earn Ice Cubes in rewards chests for the solo instance Lower Udas Temple.
Each Ice Cube (Level 1) contains either an Ice Cube Fragment or an Ice Cube (Level 2). As the level increases, so does the value of the reward. The final reward can be earned with an Ice Cube (Level 8).
Trading with the Ice Witch
Trade with Ailinerk to exchange your level 4-7 ice cubes and a little Shugo Gold for a higher level cube. For example, you can swap 2x Ice Cube (Level 4) + 15 Shugo Gold for an Ice Cube (Level 5).
Rewards
You can find all of the possible rewards for this event in our Rewards List.
Note: The following items will be removed from the game at the end of the event: [Rune] Ice Cube (Level 1-8), [Rune] Ice Cube Fragment, [Rune] Title Selection Box: Ailinerk (3 days), [Title Card] Ailinerk's Blessing (3 days), [Title Card] Ailinerk's Protection (3 days) and [Rune] Ailinerk's Socketing Aid Cookie.