An Ancient Mystery

Fight mysterious monsters and be regally rewarded!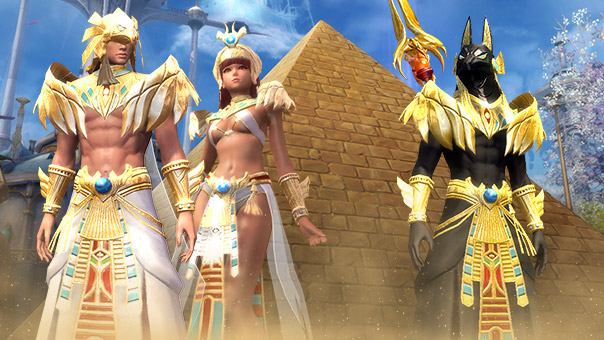 Fight the mysterious monsters that have descended upon Atreia through a rift in space and time. Queen Cleo and King Ramses have also ended up stranded in the land of the Daevas. Help the royal pair to get back to their time and be regally rewarded for doing so with XP and valuable items – including, amongst others, the Greater Stigma Bundle, the Bundle of Illusion Godstones, the +11 Manastone Bundle, the Magic Stone of Level Reduction (100%) as well as the Superior Upgrade Serum.
Running: 13/6 to 11/7
Here's how it works
Complete the quests given to you by Queen Cleo and King Ramses.
Solve the Sphinx's riddle and get some valuable Life Cubes.
Defeat Anubis, leader of the monsters, as well as instance bosses and take their souls.
Exchange the souls you gather with Queen Cleo, King Ramses and the Sphinx for rewards and XP.
Soul Trading
Here's how you get fresh souls: Kill the evil Anubis, open event cubes, defeat instance bosses or get them directly from the AION Shop. For 1 soul, King Ramses will give you the Ancient Relics item, which can hold some valuable rewards. Queen Cleo exchanges 1 soul for 10 million XP or 10 souls for 110 million XP.
The Sphinx
You get three Life Cubes from the Sphinx each week. You can only open these with the right keys. The 'Bundle of Keys' holds one of the three matching keys. If you stay online, you will get a Bundle of Keys every 30 minutes (however a maximum of 6 per day). Additionally, you can get it from completed instance bosses.
The matching keys to the Life Cubes can also be acquired in the AION Shop.
Anubis and His Monsters
Fight the mysterious monsters that have come to Nosra and Esterra and gather XP – or take on Anubis, their leader, directly. He only appears six times a day (every 20 minutes from 7 PM till 9 PM). If you emerge successful from an encounter with him, you'll earn 1 soul.
Rewards
Class
[Jakunerk] Ancient Relics
Amount
A
Greater Stigma Bundle
Bundle of Illusion Godstones
Spinel Medal
Minionite
Major Ancient Crown
Spinel Fragment

1




1




2




5




1




100

B
Battle Medal
[Jakunerk] Fabled Godstone Bundle
+7 Manastone Bundle
[Jakunerk] Bundle of Heroic Godstones
Ancient Coin
Recovery Tea - 100% recovery
Magic Powder
[Jakunerk] Box: Insignia of Honour
20
1
1
1
50
1
2000
5
C
Summer Outfit (7 days)
Celestial Wings (7 days)
Pharoah's Headdress (1 day)
Pharoah's Robe (1 day)
[Jakunerk] Bag of Powerful Scrolls
[Jakunerk] Culinary Art Bundle for High Daevas
1
1
1
1
10
10
Class
[Jakunerk] Unsealed Cube
Amount
S
+11 Manastone Bundle
Superior Upgrade Serum
Mighty Socketing Aid Box
Magic Stone of Level Reduction (100%)
Protectorate's Soulstone Bundle
[Jakunerk] Holy Upgrade Serum

1




1


1
1


1




1

A
[Jakunerk] All-Powerful Enchantment Stone
Stigma Enchantment Stone
[Jakunerk] Magic Stone of Level Reduction
Spinel Medal
Powerful Stigma Bundle
Bundle of Illusion Godstones
Grey Wolf Medal
Major Ancient Crown
[Jakunerk] Box: Insignia of Honour
Spinel Fragment
1
1
1
5
1
1
5
2
5
200
B
Battle Medal
[Jakunerk] Fabled Godstone Bundle
[Jakunerk] Bundle of Heroic Godstones
Shugo Gold
+5 Manastone Bundle
Ancient Coin
Recovery Tea - 100% recovery
Magic Powder
50
1
1
1
1
50
1
2000
Class
[Jakunerk] Ancient Holy Item
Amount
S
+11 Manastone Selection Bundle
Egg containing Puppy Knight Tom
Egg containing Cat Mage Kashy
Cute Minion Contract (14 Species)
Mighty Socketing Aid Box
+9 Manastone Bundle
+8 Manastone Bundle
[Jakunerk] Holy Upgrade Serum
[Jakunerk] All-Powerful Enchantment Stone
Powerful Stigma Bundle
1
1
1
1
1
1
1
1
1
1