AMOROUS SHULACK

Grab the Jewels and exchange them for valuable items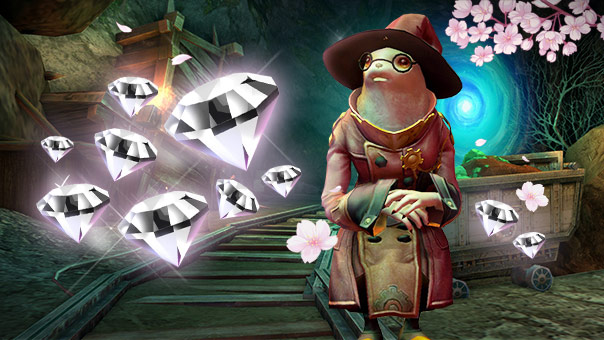 Event timeframe: 14/3 to 3/4
Shulack Actually! It may be hard to believe, but one of the Shulacks has fallen for our dear Kubrinerk. It is a particularly prickly situation given that Shulacks have currently occupied Kubrinerk's Cube Laboratory. The smitten Shulack also pilfered Glittering Jewels that Shulack boss Malarkin actually wanted for his own secret jewellery stash.
Kubrinerk's adorable assistant, who responds to the name Cute Kubrunerk, is asking that the Cube Laboratory be recaptured by gathering the Jewels from the amorous Shulack. Finally you should then teach Malarkin a lesson.
The Glittering Jewels you receive can be used to purchase some wonderful items, such as the [Event] Candy Bundle, the [Event] Bundle of Transformation Scrolls or the [Event] Box of Legendary PvP Enchantment Stones.
Here's how it works:
Deal with the amorous Shulack in Lakrum and you will receive 1x [Event] Glittering Jewels
Exchange the Jewels you gain with Cute Kubrunerk for valuable items
Teach boss Malarkin a lesson and get an additional [Event] Candy Bundle from the Cube Box of Attack (you will need rank A or S for this box).
Profit from some opportune entries:
| Additional entry | Luna Normal Price | Luna Event Price |
| --- | --- | --- |
| 1-3 | 10 | 1 |
| 4-6 | 40 | 40 |
| 7-9 | 70 | 70 |
| 10 | 110 | 110 |
Open Day
Asmodians can enter using their own gate in Mysterious Mushroom Colony and the Elyos using theirs in Dragonfly Forest. There are no limits on how many players can enter the instance. The gates will remain open for 30 minutes – each week on Friday, Saturday and Sunday. Here is an overview of when the gates are open for each faction:
| Open | Friday | Saturday | Sunday |
| --- | --- | --- | --- |
| 1:00 - 1:30 PM | Elyos | Elyos | Elyos |
| 1:30 - 2:00 PM  | Asmodian | Asmodian | Asmodian |
| 8:30 - 9:00 PM | Elyos | Elyos | Elyos |
| 9:00 - 9:30 PM | Asmodian | Asmodian | Asmodian |