The Veiled Merchant

Collect Transformation Coins to Purchase Transformation Contracts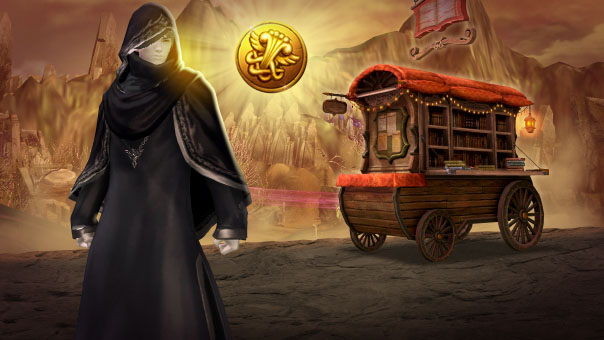 A mysterious veiled merchant has appeared in the fortresses of Gelkmaros and Inggison. He's offering fantastic transformation contracts to the Daevas, but only in exchange for Transformation Coins. Rumour has it that he has a magical talent, giving him the ability to swing transformation fusions to the benefit of the Daevas.
The most valuable goods he has on offer include the [Rune] Ultimate Special Box of Challenge, Transformation Contract: Israphel's Apostle and [Rune] Legendary Transformation Contract (10 types).
Running: 17th February to 10th March
How It Works
Get some Transformation Coins from the AION Shop and exchange them for specific or random transformation contracts from the Veiled Merchant.
The Transformation Coins can be purchased individually or in bundles, with the following packs available:
[Rune] Box with a Special Transformation Coin
Small Transformation Coin Pack
Large Transformation Coin Pack
Medium Luxury Transformation Pack
Large Luxury Transformation Pack
Legendary Luxury Transformation Pack
During the event you can also take advantage of the Veiled Merchant's special power:
During transformation fusion it isn't possible to lose a level. If you fuse two or more ancient transformations, you'll either get an ancient or legendary transformation. The chance to get the better transformation is slightly increased thanks to the Veiled Merchant's magical aura.
Note: The following items will be removed from the game at the end of the event: [Rune] Ultimate Special Box of Challenge, [Rune] Box with a Special Transformation Coin and [Rune] Special Transformation Coin.