THE FARM RACE

Win top prizes in the Mount Grand Prix!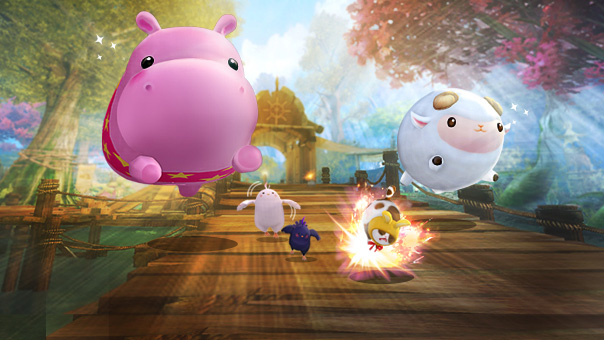 Running: 6/5 to 27/5
You know that feeling? Hopping and bounding through the fields, the grass under your hooves, the wind in your fur? Of course you don't, you're a Daeva, not a mount! Let's see if we can change that…
Slip on the mantle of a fabulous mount and take part in our big farm race! You can win great prizes such as the [Event] [Motion Card] Billowing Dandelion, a box containing animal costumes and the [Event] Box containing an Engraved Ultimate Manastone.
How It Works:
Racerinerk is organising a grand prix for two teams of 3 Elyos and 3 Asmodians transformed into one of six cute animals. The participants must overcome obstacles and use special abilities to get the better their opponents.
Brave participants earn medals at the end of the race which can be exchanged for precious rewards.
Taking Part
Joining the race couldn't be easier, simply open the 'Request Entry' menu to take part.
Pick An Animal
Which animal do you prefer? A difficult choice when they're all this cute:
Hippo
Cuddly Sheep
Tabby Bunny Hat
Bunny with Hat
Dusky
Cheery
Use the 'Peculiar Device' at the start to transform yourself. The animals' basic abilities are identical, but during the race you can pick up special abilities to use against your competitors to get the edge.
On Your Marks…
Get set… Go! But don't forget the coach's final word in your air:
Work together with your teammates, overcome the obstacles and use your abilities against the opposing team.
You'll only have one basic ability at the start. Keep your eyes peeled for the four special abilities found in the form of orbs on the track.
The Teleport, Cleansing, Snaring and Shackling Orbs all reappear 5 seconds after being collected.
Using a special ability consumes the orb, so be sure to use them wisely!
Rewards
So you've given it your all and want to reap your just rewards? Couldn't be simpler.
Members of the winning team get 6 Farm Racing Chest Keys, the losers get 4. Open the Farm Race Chests at the end of the track and collect the [Event] Farm Medals. Racerinerk will exchange them for well-earned rewards.
Lugbug Missions
Earn even more for taking part in Lugbug Missions! Pick up additional entry coins for the Farm Race plus Farm Medals.
Please note: All event items will be removed from the game one week after the event is over.
Have fun,
The AION Team