GREEN THUMBS

Look after your plants and reap rich rewards!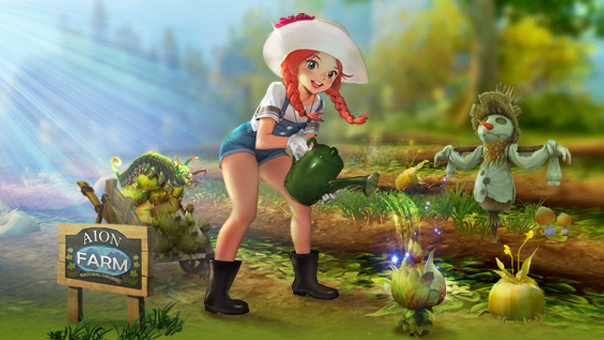 Running: 8/4 to 29/4
Sow your seeds, water the sprouts, add some fertiliser! That's the motto you need to take to heart in our fabulous Green Thumbs Event. Some fantastic awards await, including the [Rune] Daevanion Essence, [Event] [Emotion Card] Grow a House Plant and the Ultimate +10 Dumaha Weapons Selection Box of the Mighty.
If you already know your weevils from your woodlice, all the better! But suburban Daevas have nothing to fear from rural life in Atreia – we've summarised the most important information in this news post.
How to become a champion gardener:
Collect event seeds by hunting monsters in instances, logging in daily and completing quests. Nurture your plants in Dumaha and defend them from pests and other players. After that, it's time to literally harvest the fruits of your hard work and – after perhaps admiring them for a while – exchange them for valuable items and Abyss Points!
Follow these steps:
1. Gather seeds
2. Sow
3. Cultivate
4. Harvest
5. Exchange fruit
1. Gather seeds
There are two bundles of seeds you can gather ready to sow:
Bundles of Seeds can be earned by playing through Lugbug missions (5 lots) and logging in each day (every 1.5 hours up to a max. of 10 times). These bundles also drop in both difficulties of the following instances: Prometun's Workshop, Makarna of Bitterness and Stella Development Laboratory.
You receive 1 [Event] Bundle of Beautiful Colourful Seeds for completing a Lugbug mission.
2. Sow
Before sowing your seeds, make sure you're in the right region or your plants won't flourish. The plants also don't like to be too close to altars or fortresses.
The regular and beautiful colourful seeds can only be sown in certain regions:
Plains Frightcorn Seeds and Beautiful Colourful Plains Frightcorn Seeds → Plains: North Dumaha
Desert Fladia Seeds and Beautiful Colourful Desert Fladia Seeds → Arid Regions
Swamp Fungie Seeds and Beautiful Colourful Swamp Fungie Seeds → Wetlands: Kadabra Sighting Area, Brodelgeysir, Pupuru Waterfall
3. Cultivate
You can show off your green thumbs when cultivating your seeds. Once the seeds are sown, your plants will start to grow, and they then go through four stages of cultivation:
Germination → Growth → Ripening → Harvest
You can nurture your plants by watering and protecting them.
Watering:
The [Event] Full Bucket of Water can work wonders and cause your plants to really flourish. You can get the bucket by completing daily event quests or swapping an [Event] Empty Bucket for [Event] Exquisite Fruit from the NPC MuMu Sang. The bucket can be filled with water in the Kadabra Sighting Area, the Brodelgeysir or at the Pupuru Waterfall.
Protection:
The Poison Tenaklu goes mad for plants when they're ready to harvest. It's a serious pest! If it gets its teeth into your saplings, you can forget about them. It'll also attack you if you're not careful.
Fortunately, you can frighten off the Poison Tenaklu with Scarecrows, which are a good way to keep it at bay. Those creepy Scarecrows give you the chills as well, however, and you'll suffer a debuff. You can earn Scarecrows in reward for event quests or purchase them in the Gold Sand Shop for Kinah.
4. Harvest
When your plants reach this phase, it's time for you to reap all your hard work. Depending on what you've sown, the fruit you harvest comes in different levels of quality. Green Fruit (4 levels), Ripe Fruit (to be inspected), Exquisite Fruit and Gourmand Fruit.
Even if a plant isn't quite fully grown, you can harvest Green Fruit from Young Plants and exchange them for Abyss Points from MuMu Rang.
But serious gardeners only start harvesting their fruit once plants are fully grown. Gretchen will use her expertise to inspect the Ripe Fruit you bring her, judging them to be either Exquisite Fruit or even Gourmand Fruit.
Fruit from beautiful colourful plants will automatically become high-quality Gourmand Fruit.
Important: Don't take your eyes off your plants for too long, because other players – even from the enemy faction – can harvest your plants!
5. Exchange fruit
Time to turn the fruits of your work into cold hard rewards! Exchange your fruit for fantastic items.
Take your Exquisite Fruit to MuMu Sang and exchange them for the following rewards among others: [Event] [Emotion Card] Grow a House Plant, [Event] [Title Card] Professional Farmer (15 days) and [Event] Box containing an Engraved Legendary Manastone.
Take your Gourmand Fruit to MuMu Chen and get your hands on rewards such as the Ultimate +10 Dumaha Weapons Selection Box of the Mighty (only available 10x per server and week).
Please note: All event items will be removed from the game one week after the event is over.
Happy gardening!
The AION Team