Ghastly Fun in Atreia

Celebrate Halloween and reap the rewards!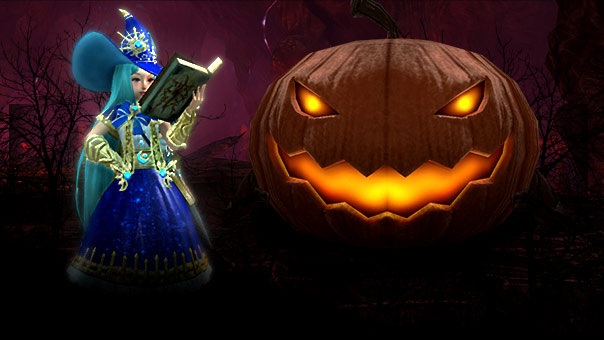 The sky grows dark and a most uneasy mood spreads across all Atreia. The Festival of Shivers is coming to Nosra and Esterra and you're invited! There's an eerie new event waiting for you, with spooktacular buffs, thrilling boss fights and scary costumes!
Running: 31/10/2017 (9 AM) till 8/11/2017
NPCs: Esta or Isuta
Daily Halloween Quests
You can complete a quest daily to earn yourself two Halloween transformations! NPCs Esta and Isuta will be waiting for you in the capitals within Esterra and Nosra. Pay them a visit and be rewarded! A full list of potential rewards can be viewed further down this news post.
One Hour of Spooktacular Buffs
Get 400% more XP and a drop rate boosted by 100% for one hour in Nosra or Esterra. These buffs can be attained by clicking on 5 consecutive candles that appear on a coffin in the middle of Nosra and Esterra. Activate your buffs as many times as you like – the only catch is that you cannot renew them when they are active. These buffs replace those placed by amulets (for example, those attained through Pure Merek's Wondrous Prayer). They cannot be stacked.
Explode the Pumpkins
Charging stations for Candy Bombs will appear daily from 6 PM till 11 PM in Sanctum and Pandaemonium as well as on the fields of Atreia. Hunt the Pumpkin Kings in the instances listed below and blow them up with the event bombs – it's the only way to defeat them!
The bombs can be collected from the Charging Stations for Candy Bombs every 10 minutes (up to a maximum of 20 a day).
Defeat an event boss and you will receive 1 Pumpkin King's Bundle as well as 1 Halloween Pumpkin. A full list of the instances in which the Pumpkin Kings appear can be found further down this news post.
Rewards
A list of all details on rewards and the exchange of Halloween Pumpkins can be found here.
Instances
Pumpkin King Instances
Adma Ruins
Secret Laboratory Elemental Core
Arkhal's Hideout
Library of Knowledge
Garden of Knowledge
Kroban
Museum of Knowledge
Narakkalli
Rift of Oblivion
AION Shop Offer
Attention! For every 69 AION Coins per character that you spend in the AION Shop, we'll send a Halloween Pumpkin to the respective character in-game. This shop offer will run from 31/10/2017 at midnight until the end of the event on 8/11/2017. (You can repeat this as many times as you wish to for the duration of the offer.)
We will also send the Halloween Pumpkin to your character if you gift an item in the shop to one of your friends and thereby reach the 69 coin mark with that character.
Please note: if you receive a Halloween Pumpkin from this offer and then decide to return one of your purchased items through Game Support, the Halloween Pumpkin must not have been used. The pumpkin will also be removed by Support as part of the return process. If the Halloween Pumpkin has already been used, Support will no longer be able to exchange the purchased shop item.
Trailer
Check out the Halloween event trailer: