The Spookily Super Halloween Event

Win some valuable bundles, boxes and costumes!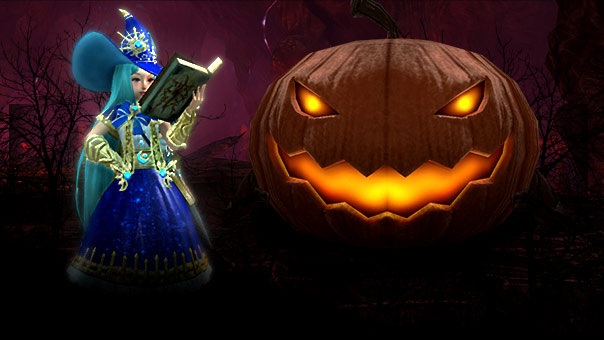 Running: 09/10 to 30/10
Prerequisite: from level 76
An unnatural mood has swept across all of Atreia – those who keep their cool now will be able to celebrate, battle and clean up in the Halloween event: there's daily quests, bombastic buffs, exploding pumpkins and impressive rewards all across Lakrum, such as [Rune] Autumn Harvest Transformation Contract (65 types), Magic Hour Robes and the [Rune] Box of Ultimate Magical Manastones.
It's all going haywire in Atreia this Halloween: the members of the Milky Way League have had their Halloween Pumpkins stolen! Halloween can't take place this year if they don't get these pumpkins back fast. So we're calling on brave Daevas like you to hunt down the thieving Pumpkin Kings. You can get support from Kabe, a Shugo who has dressed up as a black cat – he'll kit you out with Transformation Potions.
Daily Halloween Quests
Pay a visit to Esta and Isuta and hunt the Pumpkin Kings in the instances listed below: blow them up with the event bombs – it's the only way to defeat them! Defeat an event boss and you will receive 1 Pumpkin King's Bundle as well as 1 Halloween Pumpkin. A full list of potential rewards can be viewed further down this news post.
Halloween Candy Master Kabe has another daily quest for you in which you can bag 2 Ancient Transformation Potions.
An Hour of Bombastic Buffs
A Nobleman's Coffin: Get 100% more AP and a drop rate boosted by 100% for one hour. You receive the buffs by clicking on the coffin that appears in Lakrum. Activate your buffs as many times as you like – the only catch is that you cannot renew them when they are active.
Candy Bomb
Charging stations for Candy Bombs will be appearing in the capital cities of Lakrum and Dumaha daily from 1 PM till 3 PM and 7 PN to 9 PM. For each of your 3 visits, these stations will give you 3 bombs. If you stay logged in, you'll also get 5 Candy Bombs every 30 minutes (up to a maximum of 20 a day).
NPCs
You can find the NPCs Esta, Isuta, Kabe and the Nobleman's Coffin in the Temple of Perpetual Wisdom, the Everlasting Life Refuge and in Stellusia.
Rewards
You can find a list of all details on rewards and the exchange of Halloween Pumpkins here.
Instances
Pumpkin King Instances
Holy Tower


Hererim Mine


Makarna of Bitterness




Narakkalli




Prometun's Workshop (normal)


Prometun's Workshop (difficult)


Senekta


Stella Development Laboratory (easy)
Stella Development Laboratory (normal)
Note: The event items will be removed from the game one week after the event completes.