Treasure Chest Event

Pocket the drop and be rewarded with fantastic items!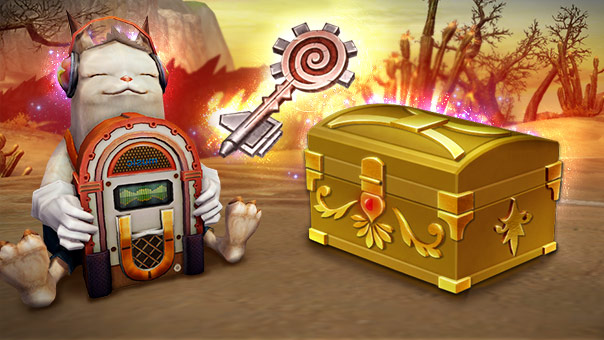 Head out on your monster hunt from 24th April to 15th May! Defeated monsters all over Atreia will drop Treasure Chests of Battle at random. All you need now are the keys to get to the juicy rewards.
Among other items, in treasure chests you'll find the Night Owl costume, the Ultimate PvP Enchantment Stone, the Ultimate PvE Enchantment Stone and the [Rune] Special Transformation Contract (62 types).
Here's how to get the rewards:
Defeat monsters all over Atreia (excluding Poeta/Ishalgen)
Pocket the drop: the Treasure Chest of Battle
Defeat monsters in the instances to have chance for keys for the Treasure Chest of Battle to drop.

This also applies to the monsters in Lakrum.

Alternatively, you can acquire the keys in the AION Shop.
Open Your Treasure Chest
Even more prizes: in addition to your reward, you are also guaranteed at least one Safe Token and with a little luck you can even get up to 25 Safe Tokens at once!
You can exchange the tokens at the Safe Token Vending Machine for useful items. You can find the vending machines in the capitals and in Lakrum. What are you going to get?
Keys from Instances
Are you a hard-working treasure chest collector? Defeat boss enemies in the following instances and your battles will turn into real key experiences:
| | |
| --- | --- |
| Taloc's Hollow | Mirash Refuge |
| Esoterrace | Fire Temple |
| Beshmundir Temple | Rentus Base |
| Tiamat's Fortress | Prometun's Workshop |
| Narakkalli | Garden of Knowledge |
| Holy Tower | Makarna of Bitterness |
| Senekta | Hererim Mine |
Keys Available in AION Shop
Need more keys? Then get yourself some additional keys from the AION Shop. An overview of the prizes:
Key for the Treasure Chest (x1): 29 AION Coins
Key for the Treasure Chest (x10): 259 AION Coins
Key for the Treasure Chest (x25): 580 AION Coins
Note: the event items will be removed from the game once the event completes.