New Player and Returners Event

Be rewarded with valuable items!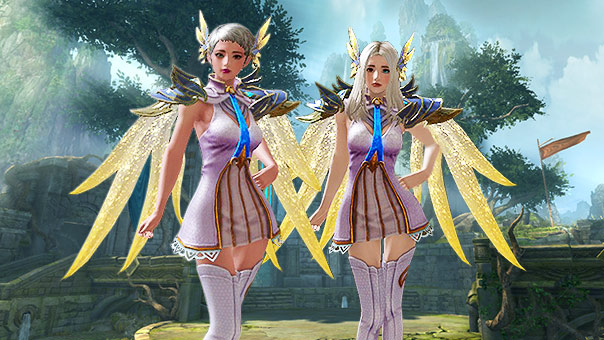 As a new or returning player, get worthwhile giftsfrom 24/1 to 7/2:
Are you a new player who has registered within a maximum of 30 days, or have you not visited Atreia in 30 days or more? Then visit Kata and Pata in the starting areas and the capitals. They'll give you items that will be of great use to you on your future adventures.
Rewards
Kata and Pata will give you buffs, transformation candies as well as a reward bundle with armour pieces, headwear, weapons, wings, and an exclusive title.
New players can look forward to additional buffs as well as the Twin's Gift, which grants you useful items according to your game progress. You will be rewarded for reaching the following levels: 1, 10, 14, 18, 22, 24, 28, 32, 38, 49, 53, 59, 62, 65.
Please note that the twin's gifts is only available for characters from level 1 to 20. You won't be able to open it after the level 20.
There's some great items to be had, such as Box containing Twins' Mounts, the Martial Arts Set (7 days), the Magnificent Phoenix Feather, the Bundle of Daeva Manastones and much more.
Returning players will receive a chest for level 65 characters which will remain in their inventory for 30 days. If you manage to get to level 65 within this time and then open this chest, you will be able to look forward to items that are of even higher quality. Additionally, Reta is here for you if you want to teleport quickly to another instance.
Special potions will be dropping in many areas during the event too, immediately giving you either 1%, 3% or 10% of the experience points needed for your next level!
Overview
New Players
NPC: Roper
Location:from Poeta to Signia and Ishalgen to Vengar
Function:
Grants all new players additional buffs
Increases the maximum HP and MP by 240
Increases the HP regeneration by 12 and MP regeneration by 18
Movement speed +3%, flight speed +3%, attack speed +3% casting speed +3% for 2 hours
Returners
NPC: Reta
Location: Elyos: Heiron, Theobomos, Inggison, Silentera Canyon, Signia, Akaron, Verteron, Eltnen
Asmodian: Beluslan, Brusthonin, Gelkmaros, Silentera Canyon, Vengar, Akaron, Altgard, Morheim
Function: depending on where you are, Reta will teleport you to the entrance of various instances (low level instances)