Angel in Sheep's Wool

In-game event for returning and new players from 2/8 till 23/8.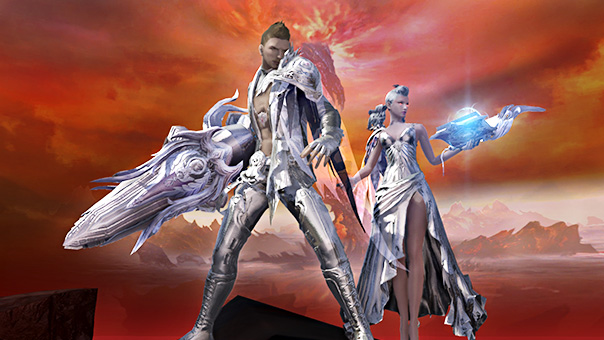 Baas are not only gloriously fluffy, they are also best known for their generosity! They'll be presenting new and returning Daevas with valuable items from 2nd to 23rd August. But what is motivating the Baas to do so?
An old tale bleats the following story, that happened long ago: a deity with a foul mood transformed a group of fallen angels into a herd of Baas. One deeply dark night, this herd of Baas were driven into a corner by a pack of bloodthirsty Worgs. The situation seemed hopeless, but rescue came in their final seconds: a young Daeva, only just risen and still inexperienced in combat, rushed to the aid of the Baas. Mightily relieved, the Baas swore from that moment on to always provide inexperienced Daevas with useful items and in doing so, help them on their journeys. The deity heard tales of these selfless Baas and decided to transform them back to their former selves. Despite their return to angelic form, these heavenly beings continued their acts of generosity as a mark of their continued gratitude to the Daevas.
Are you a new player who has registered within a maximum of 30 days, or have you not visited Atreia in 30 days or more? Then pay Baartholomew and Baarbara a visit between the 2nd and 23rd August and to Kata and Pata from the 9th to 23rd August. All can be found in the starting areas and the capitals. They'll give you items that will be of great use to you on your future adventures.
Rewards
The Baas and angels will give you buffs, transformation candies as well as a reward bundle with armour pieces, headwear, weapons, wings, an exclusive title and a mount for 30 days.
Additionally, returning players will receive a chest for level 65 characters which will remain in their inventory for 30 days. If you manage to get to level 65 within this time and then open this chest, you will be able to look forward to items that are of even higher quality.
Special potions will be dropping in many areas during the event too, immediately giving you either 1%, 3% or 10% of the experience points needed for your next level!
Overview
New Players
NPC: Baarbara (2/8 - 9/8) and Kata (9/8 - 23/8)
Location: at the initial area of the starting region; at the entrances to Sanctum and Pandaemonium
Function: reward bundle for new players, transformation candies, buffs
Additionally from 9th August:
NPC: Roper
Location:from Poeta to Signia and Ishalgen to Vengar
Function:
Grants all new players additional buffs
Increases the maximum HP and MP by 240
Increases the HP regeneration by 12 and MP regeneration by 18
Movement speed +3%, flight speed +3%, attack speed +3% casting speed +3% for 2 hours
Returners
NPC: Baartholomew (2/8 - 9/8) and Pata (9/8 - 23/8)
Location: at the initial area of the starting region; at the entrances to Sanctum and Pandaemonium
Function: reward bundle for returning players, transformation candies, buffs
Additionally from 9th August:
NPC: Reta
Locations:Elyos: Heiron, Theobomos, Inggison, Silentera Canyon, Signia, Akaron, Verteron, Eltnen
Asmodian: Beluslan, Brusthonin, Gelkmaros, Silentera Canyon, Vengar, Akaron, Altgard, Morheim
Function: depending on where you are, Reta will teleport you to the entrance of various instances (low level instances)