PANGAEA LEAGUE: THE WARM-UP

Fight against players from your own faction and get rewards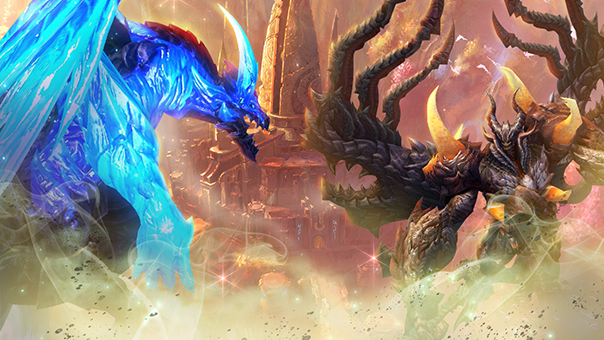 Welcome to the second test of our warm-up for the Pangaea League! After the first test which we held in May, we're seeking your help again to ensure the event runs smoothly for all players.
Compete against players in your own faction again on 19th June. Each player who participates in the test will have the following items delivered directly to their inventory: [Rune] Special Transformation Contract: Cat (64 types) and 5x Transformation Potion: Tiamat!
War within the Factions
The warm-up event is the perfect opportunity to get acquainted with the Pangaea League: in Lakrum, 16 portals will open which you can travel through to reach Pangaea. The portal you step into determines which team you end up on. Up to 48 players can travel through the same portal.
First you will fight for the Pangaea territory you arrive at. Here you must defeat the mighty Ulsaruk. Players who defeat Ulsaruk will then go head to head with Antriksha! You'll receive your [Event] Bundle of Consumables as a reward once you've defeated the bosses.
Please note that the rewards are not final and that they may still be changed before the actual event
Flag Guide
In Pangaea, you meet the Legion Pangaea Flag Guide. He gives you the [Event] Pangaea Alliance Flag, which lets you share 80% of your item and transformation collection stats with other members of your alliance.
Timetable
Pangaea opens its doors for you on 19th June: Asmodians begin battle at 5:00 PM and Elyos at 7:00 PM.
Known problems
We are aware of the following problems – we are already working on finding solutions:
Players can enter the Pangaea maps for 5 minutes. The portal disappears once the time runs out. If players then log out and log back in or are kicked out of the game, they are teleported to Inggison or Gelkmaros and cannot re-enter the map.
Once a team captures a fortress, the winning team can no longer leave the spawn area because all the Resurrection Devices on the Refuge's map are destroyed.