Great Spring Lottery + Kumuki Event

Collect playing cards and beat bosses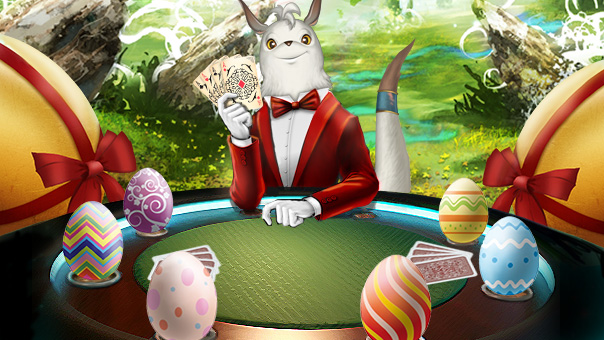 The Great Spring Lottery
Spring has sprung and with it comes the Great Spring Lottery. Collect playing cards and win some valuable prizes!
What's this about?
Collect playing cards from 19/4 to 10/5 in different combinations and win cool prizes - including Spinel Medals, a Mighty Socketing Aid Box or if you're lucky, an Advanced Daevanion Protector's Weapons Chest.
What are playing cards?
There are a total of 24 different playing cards with the usual symbols you know from poker, for example: clubs, hearts, diamonds and spades. Each suit contains an ace, king, queen, jack, 10 and a joker. Collect various combinations of cards to win valuable prizes.
An overview of the individual suits:
| | | | |
| --- | --- | --- | --- |
| Spades | Hearts | Diamonds | Clubs |
| Joker of Pessimism (grey) | Joker of Passion (red) | Joker of Serenity (blue) | Joker of Optimism (yellow) |
| Ace of Spades | Ace of Hearts | Ace of Diamonds | Ace of Clubs |
| King of Spades | King of Hearts | King of Diamonds | King of Clubs |
| Queen of Spades | Queen of Hearts | Queen of Diamonds | Queen of Clubs |
| Jack of Spades | Jack of Hearts | Jack of Diamonds | Jack of Clubs |
| 10 of Spades | 10 of Hearts | 10 of Diamonds | 10 of Clubs |
Where do I get the playing cards?
If you log into the game between 19/4 and 9/5 and stay online for at least 30 minutes in one sitting, a free playing card will be sent to you by in-game post the following day – with a maximum of one per day. Only characters who have reached level 15 will be eligible to receive free cards.
To increase your chances of winning, you can purchase additional cards in the AION shop. Starting 19/4 they will be available as individual cards or in bundles of 24 or 100.
Please note that the cards are generated at random - some will appear frequently, others less so.
The first free card will be delivered on 20/4. In order to get this card, you'll have to be logged in for at least half an hour on 19/4!
The last free card will be delivered on 10/5. Similarly here, you'll only receive this card if you were logged in for 30 minutes on the previous day (9/5)!
A character can receive up to 21 free cards over the entire event period.
Note: Accounts created after 19/4/2017 (23:59 CEST) will not be included in the allotment of free playing cards!
All cards will be deleted from the inventory during the server maintenance on 10/5/2017.
What prizes can I win?
There are loads of different prizes that require various card combinations in order to win. A complete overview can be found below this news article.
How do I receive my prizes?
When a playing card is given out, we save the information about which card it is in our database. This gives us a constant overview of all the cards in your possession so we can regularly check to see if you have won any prizes. The items will then be sent to you via the in-game post.
A card can be part of multiple combinations. For example, if you have all the cards in the diamond suit, plus the ace of hearts, ace of spades and ace of clubs, you will receive two prizes – one for having the full set of diamonds, plus one for having all four aces, i.e. a +7 Manastone Bundle and an Upgrade Serum of Luck. The ace of diamonds thus counts for both.
If you manage to collect all 24 cards, then you will receive every single prize listed once. If you then succeed in collecting all cards twice, you will receive every prize twice – with the exception of the main prize (Advanced Daevanion Protector's Weapons Chest). This will only be awarded once per character.
Good luck!
Overview of the winning combinations and prizes: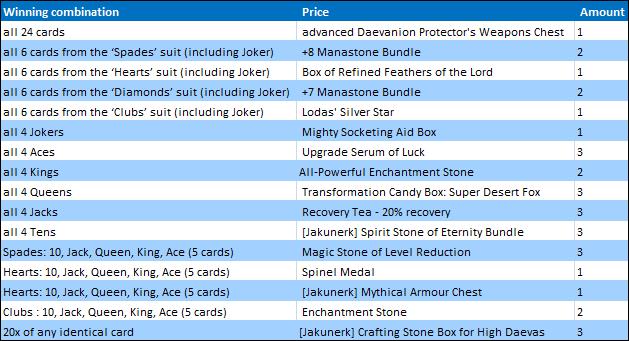 Kumuki Event
The devious Susu have taken some Poppies prisoner to slaughter them. You're their last hope before the Susu declare it's barbeque season. A frontal attack would be too dangerous, though. You'll slip into the Kumuki instance undetected, find the key to the cages, defeat the nasty cook and free the poor Poppies. Be celebrated as a hero and grab yourself a fantastic reward.
Move in the shadows! All alone, you creep through the Kumuki instance. You can hide in baskets and other similar objects so as not to be discovered. Two new skills will help you to stay invisible to your enemies: the Stink Bomb smells even worse than your enemies' armpits and puts them out of action for a while. The other skill gives you the power to send the Susu running home for mummy in fear.

You have to find 4 keys in the instance before you can free the 4 Poppies. Luckily, the Susu didn't hide their keys too well in anticipation of the approaching barbeque party. Look inside the chests and you'll find what you're after.
You'll receive a rewards bundle after you've freed each piggy. You can also find another key that will let you open an additional rewards bundle when the instance ends. That means you can get up to 5 bundles over the course of the instance.

There's a certain probability (piggies are supposed to bring luck after all) that you can get a Premium Key for the 5 Premium Boxes from the rewards bundles. You can also by the Premium Key in the shop.
Huge Golden Saam opponents are also causing mayhem in the instance. If you face them bravely and beat them, you'll receive lots of experience points.
You can enter the Kumuki instance once a day if you have an active Gold Pack. Without one, you can creep through the instance on Monday, Wednesday, Friday and Sunday. You can also purchase additional entries from the shop in the form of Entry Scrolls.
Rewards