THE SUMMER PARTY

Collect ice for delicious cocktails and be richly rewarded!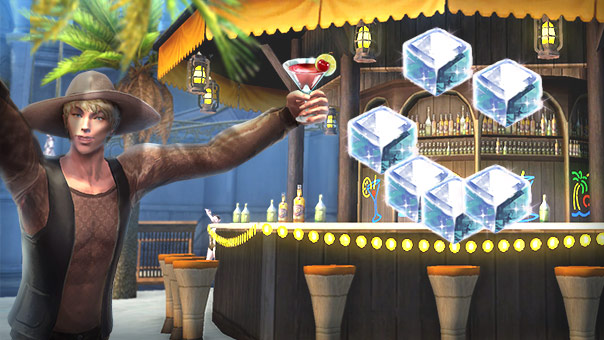 Running: 11/9 to 9/10.
Summer might be coming to an end but in Atreia it's still hot. Elyos and Asmodians want to throw a cocktail party to cool off a bit – but oh no, they're all out of ice cubes! Now the Daeva need to search Lakrum and Dumaha for ice to save the party.
Give them a hand: help Calobris the innkeep or Rezar collect ice and look forward to rewards such as the Summer Outfit, the Party Dress of the Enchanting Daeva, the Ultimate PvP Enchantment Stone as well as the [Rune] Legendary Transformation Contract (10 types).
Here's How It Works:
In Lakrum and Dumaha, as well as the instances of these regions, you can find various materials that you'll need to get the juicy rewards.
Collect Cold Boxes
A Cold Box contains the Frozen Ice you need as well as an Ice Hammer (low probability). Here's how you can get them:
Your daily login will earn you 1 Cold Box every 30 minutes (max. 10 a day).
Defeat boss enemies in high-level instances (the loot will be dropped for the group).
Take part in a Pandora Raid and receive the Settlement Reward Chest or the Battlefield Reward Chest.
Hunt Sweaty Bunnies near the garrisons in Lakrum and Dumaha.
Frozen Ice and Ice Hammers
Both items can be combined to receive a [Jakunerk] Blue Box, which will give you a reward as well as a [Jakunerk] Shugo Warranty.
You will also need the Frozen Ice to complete Calobris' (Elyos) and Rezar's (Asmodian) quest. As a reward for completing the quest, you will receive the [Jakunerk] Cocktail Shaker. In addition to the [Jakunerk] Shugo Warranty, the shaker contains one of four cocktails that will provide you with useful buffs, for example health, mana or damage.
Until 2nd October, you can also get Frozen Ice and Ice Hammers in the AION Shop!
The Shugo Warranty
During the last week of the event you can exchange all [Jakunerk] Shugo Warranties you have collected with Summerinerk for costume skins and other valuable items.
Rewards
Click on Rewards to view a list of the rewards.
Note: The event items will be removed from the game one week after the event completes and the two NPCs Calobris and Rezar will be leaving Atreia on 2nd October.