Heated contests in August!

Fight for attractive prizes in our two exciting summer events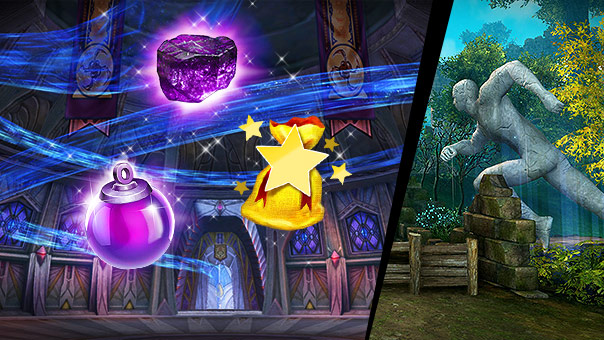 Tiamaranta's Eye
Get ready for thrilling challenges and bitter battles: in the region of 'Tiamaranta's Eye' brave Daevas go monster hunting, pick up valuable chests and plunge into merciless battles! Awards awaiting you include among other things the [Jakunerk] Holy Upgrade Serum as well as the +12 Manastone Bundle.
Running: 1/8 to 15/8
How the event works
Tiamaranta's Eye awaits you: test yourself against other players in PvP, seize victory for your faction in RvR, go monster hunting or graze the region for exquisite chests.
Once a day you can face off against powerful opponents: if you defeat Governor Sunayaka and Berserker Sunayaka, these premium rewards will drop for you.
Entry
Players can reach Tiamaranta's Eye through a rift in the capital cities of Sanctum and Pandaemonium. The instance can be entered by players at level 66 or higher. Elyos start on the left side, Asmodians on the right.
Monster
While hunting you'll run into three different ranks of monsters: Normal, Elite and Captain. Your opponents leave different rewards behind depending on their ranks. You'll also have the chance to get hold of a key that will let you open one of the chests that appear in this region.
Chests and keys
Two chests appear at random in various locations in the region: the Protectorate's Treasure Box appears at random every 60 minutes and the Protectorate's Treasure Chest appears every 120 minutes. Defeated monsters drop the keys for these chests.
Gold Coin Trade
Collect the Protectorate Gold Coins by completing daily quests. The Gold Coins can be exchanged with the Protectorate Gold Coins Administrator for very useful items. A full list of items can be viewed further down this news post.
Boss opponents
A strong boss opponent appears sporadically in 'Tiamaranta's Eye'. If you hunt them down, you'll receive high-quality items! You'll be faced with the following boss opponents:
Governor Sunayaka
• daily at 8 PM
Berserker Sunayaka
• daily at 11 PM
• at weekends also at midday

Chat
In the region 'Tiamaranta's Eye' you can communicate with players of other factions using the Chat function. The chat is however restricted to two functions.
NPCs
| Name | Faction | Properties |
| --- | --- | --- |
| Grimron | Asmodian | Fatebound Legionary / Quest giver |
| Marmara | Elyos | Hushblade Legionary / Quest giver |
| Arseus | Elyos | Protectorate Gold Coins Administrator |
| Lechi | Asmodian | Protectorate Gold Coins Administrator |
Rewards
Rewards from defeating opponents:
Normal monsters
Amount
1,000 Kinah
1,000 AP
[Jakunerk] Drana Coffee
Spicy Food Chest
Protectorate Gold Coin
Tiamaranta's Eye Treasure Box Key
1
1
1
1
1
1
Elite monsters
Amount
100,000 Kinah
4,000 AP
[Jakunerk] Drana Coffee
Spicy Food Chest
Bundle of Protectorate Gold Coins
Tiamaranta's Eye Treasure Box Key
1
1
6
6
1
1
Captain monsters
Amount
1,000 Kinah
1,000 AP
[Jakunerk] Drana Coffee
Spicy Food Chest
Tiamaranta's Eye Treasure Box Key
Protectorate Gold Coin
Tiamaranta's Eye Treasure Chest Key
1
1
1
1
1
1
1
Governor Sunayaka
Amount
[Jakunerk] All-Powerful Enchantment Stone
Cheerleader Hair Accessory
Sunayaka's Soulstone Chest
Manastone +11
1
1
3
3
Berserker Sunayaka
Amount
[Jakunerk] All-Powerful Enchantment Stone
Cheerleader Hair Accessory
First Sunayaka Weapon Fragment
Second Sunayaka Weapon Fragment
Manastone +11
Manastone +12
Sunayaka's Soulstone Chest
3
2
1
1
3
3
5
Rewards from chests:
Protectorate's Treasure Box
Amount
Ancient Crown
Bundle of Skill Cards
Protectorate's Soulstone Bundle
Enchanting Minion Contract
1
1
1
1
Protectorate's Treasure Chest
Amount
Major Ancient Crown
Protectorate's Soulstone Bundle
Holy Apollon's +15 Weapons Chest
Enchanting Minion Contract
2
3
1
1
Gold Coin Trade
Gold Coin Trade
Amount
Coins
Fate Commander's Weapons Chest
Fate Commander's Top Chest
Fate Commander's Legwear Chest
Fate Commander's Gloves Chest
Fate Commander's Pauldrons Chest
Fate Commander's Shoes Chest
Fate Commander's Wings Chest
[Jakunerk] All-Powerful Enchantment Stone
[Jakunerk] Holy Upgrade Serum
+11 Manastone Bundle
+12 Manastone Bundle
Commander's Storm Soulstone
Steel Wall Commander's Soulstone
Commander's Protective Soulstone
Commander's Medal Soulstone
[Jakunerk] Magic Stone of Level Reduction
Bundle with the Third Sunayaka Weapon Fragment
Bundle with the Fourth Sunayaka Weapon Fragment
1
1
1
1
1
1
1
1
1
1
1
1
1
1
1
1
1
1
300
250
200
175
175
175
250
100
100
100
125
20
20
20
20
100
300
300
The Grand Daeva Race
The Daeva Race on the Treasure Island of Courage is known for being the hardest in all of Atreia. In this merciless parcours, three Elyos go up against three Asmodians. They hit the Start line with special abilities and have to use these wisely to overcome their opponents. The course includes a number of hurdles, passes some sneaky traps and through some difficult terrain, often forcing brave participants to take to the sky or to make use of mounts. Once they get to the finish, fame and recognition awaits, along with some fantastic rewards.
Running: 1/8 to 29/8
Minimum level: 10
Entry: 1x daily
Head to the start!
Enter the Treasure Island of Courage instance and register using the integrated instance server for the competition. As soon as three players of each faction are present, the race begins.
Competition Classes
Every team member sets their competition class prior to the big race. Select the class according to your tactics:
Hook Class
Abilities: Frenzy, Restraining Chains, Fear Bomb, Gripping Chains
Boot Class
Abilities: Dense Fog, Dimension Image, Counter-attack Lunge, Sprint Skill
Trap Class
Abilities: Gripping Hand, Frenzy, Binding Hand, Paralysis Breath
Shield Class
Abilities: Frozen Harpoon, Swiftwing, Frost Barrier, Remove Shock
You can set special abilities by taking a maximum of four aids with you into the race. You only have a limited amount of time to choose. After the countdown expires, the gate to the parcours opens and the race starts.
Rules
Your team receives points when it is in the lead and of course, if it wins. Every runner on the winning team receives three keys. The losers leave with nothing. In the event of a draw, all runners receive one key.
The keys open a chest of rewards. For Magnificent Treasure Chests, a key from the shop is required. Only these premium keys will remain permanently available to the runners: the keys for the Regular Treasure Chest will be lost when you leave the instance.
A full list of rewards in the chests can be viewed at the end of this news post.
Danger, Hazards!
The race comprises one round and is split into 4 sections. As the race really isn't child's play, we've prepared some tips for a perfect run:
Section 1
Watch out for the bombs! If you step on them you will be paralysed briefly.
Run at the hurdles and overcome them.
Gather up the whirlwind, it gives you a small speed boost over your opponent.
Jump into the path of wind and have it carry you.
When you reach the canyon of fog, only your wings will carry you further. Be sure not to disturb the clouds as you fly. They may look fluffy, but their bolts will paralyse you.
Section 2
At the start of this section, you can use your mount until you reach the start of the next race section.
Section 3
This section is really something: there are chasms, poisonous mushrooms, sticky spider webs and some eldritch tree roots. Be careful: lots of Atreian runners have already faced a fatal situation thanks to these dangers.
Towards the end, good timing is required: the ground moves and every false move could be your last!
To move on to the next section, launch yourself using the geyser.
Section 4
Don't get too close to the zombies and be wary as you run, lest you drop into the depths.
Get ready for the final stretch: run towards the finish, leap from the cliff and fly to the end of the parcours. Your rewards will be waiting for you here – provided you were a brave runner.
Rewards
Regular Treasure Chest
Amount
Fate Commander's Weapons Chest
Fate Commander's Armour Chest
Fate Commander's Accessories Chest
+12 Manastone Bundle
Farside Lightning Dragon King's Enhanced Weapons Chest
[Jakunerk] Holy Upgrade Serum
Greater Minion Contract
+11 Manastone Bundle
Spinel Medal
Normal Minion Contract
[Jakunerk] Magic Stone of Level Reduction
Bundle of 400 Mighty Socketing Aids (Mythical)
[Jakunerk] All-Powerful Enchantment Stone
[Jakunerk] Holy Upgrade Serum
Protectorate's Soulstone Bundle
[Jakunerk] Drana Coffee
[Jakunerk] Nutritious Meal
Minionite
[Jakunerk] Lodas' Golden Star
[Jakunerk] Culinary Art Bundle for High Daevas
Shugo Gold
Box of Warrior's Mythical Idian
Refined Recovery Serum
1
1
1
1
1
3
1
1
2
1
1
1
1
1
2
10
15
5
1
5
2
2
25
Magnificent Treasure Chest
Amount
Level A Minion Contract
Ancient Fallusha Enhanced Weapon Chest
[Jakunerk] Weapons Chest of Bygone Atreia
Dark Dragon King's Enhanced Weapons Chest
+12 Manastone Bundle
Panda's Go-Kart
Box of Refined Shanda Feathers of the Lord
Fate Commander's Weapons Chest
Fate Commander's Armour Chest
Fate Commander's Accessories Chest
Ancient Fallusha's Armour Chest
Ancient Fallusha's Accessory Chest
Ancient Fallusha's Wings
Bundle of Legendary Illusion Godstones
Protectorate's Soulstone Bundle
Ascended Transformation Candy Box
Bundle of Lucky Stigmas
Minionite
+11 Manastone Bundle
+10 Manastone Bundle
Powerful Blessed Augmentation: Level 2 Bundle
Powerful Enhancement: Level 2 Bundle
Pure Merek's Wondrous Prayers Bundle
[Jakunerk] Culinary Art Bundle for High Daevas
Shugo Gold
Transformation Candy Box: Super Baa
Revival Stone Bundle
1
1
1
1
1
1
1
1
1
1
1
1
1
1
5
2
1
10
1
2
1
1
1
20
10
5
5