THE TOY FACTORY

Build a toy robot which gives you fantastic items.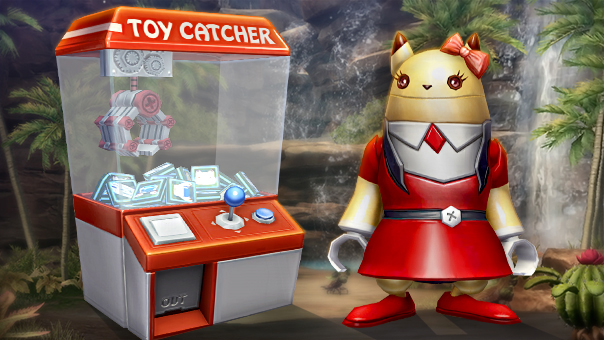 Running: 19/2 to 4/3
Gamerunerk runs her own little toy factory, producing tough little toys. It's famous for its toy robots, a popular diversion for young and old throughout Atreia. Gamerunerk has asked the Stella Corporation for assistance in producing them, and now the responsibility lies with you to procure Robot Energy and robot parts.
You're bound to earn just rewards for your support in this endeavour, as toy robots grant rewards once powered up! These include the Boho Chic Outfit, the [Event] Stigma Enchantment Stone and the [Event] Merciless Intruder's Ultimate Armour Chest.
How it works:
Visit Gamerunerk
Gamerunerk and the Toymaker Robot can be found on the square in Stellusia, Dumaha.
Collect Robot Parts
Every kid knows that robots are made of three bits: head, body and legs. These are the parts you'll need, and there are multiple ways to get them:
Daily Login: Stay logged into the game for 90 minutes and you'll earn 5 Mysterious Capsules containing Robot Energy.
Obtain Light Capsules: You'll find Light Capsules strewn throughout Dumaha which grant you robot parts or Robot Energy when you collect them.
Complete Lugbug Missions: In reward for completing missions you'll earn Mysterious Capsules containing toy parts and more Robot Energy.
Tip: Completing Lugbug Missions earns you extra points. Once you've collected enough points, you'll be rewarded with Pieces of Sinister Chocolate which are required for Chocorunerk's Sweet Chocolate event.
For 30 points you'll get 9 [Event] Pieces of Sinister Chocolate.
For 60 points you'll get 15 [Event] Pieces of Sinister Chocolate.
For 100 points you'll get 18 [Event] Pieces of Sinister Chocolate.
Crafting Robots
Every kid knows that robots also need energy to work. Sounds like a job for a Daeva like you!
Provide the Toymaker Robot with 5 [Event] Robot Energy and receive 2 [Event] Toy Robots. Open these and the Toymaker Robot will give you a reward.
Rewards
You can find a list of rewards here.
Please note: All event items will be removed from the game one week after the event is over.