THE CONQUEST OF APHSARANTA

Take advantage of many powerful boosts on the new battlefield!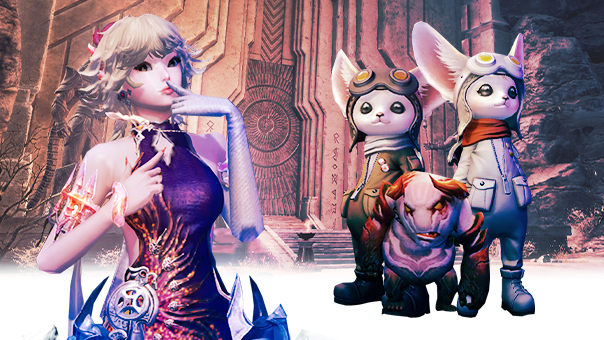 The latest update 'Aphsaranta Temple' introduced a brand new battlefield. However, you can only enter Aphsaranta from level 81 onwards... Not got that far yet? No problem, a real Daeva doesn't let that stop them! Just create a fully equipped level 80 hero and nothing will stand in your way of conquering Aphsaranta!
You can also look forward to even more benefits and rewards during the events 'Aphsaranta Attendance Register', 'Kerub's Short Tutorial' and 'Aphsaranta Adventurer'.
Your Sprint Character
Running: 6/10/2021 to 3/11/2021
Get additional benefits from your daily login during this event by creating a fully equipped level 80 hero and starting your Aphsaranta adventure!
Here's how you get your level 80 hero: in the character creation section of the game you just have to click on the 'Sprint Character' button to create a new hero character who is already level 80. This is only possible during the event period and you can only create one sprint character per account. If this character is deleted, it can't be restored. Please also note that you can only create a hero if you have not already exceeded your maximum number of characters.
Fully equipped: To make sure you can get started with you new hero straight away, you'll get Urlisiel's equipment, Yasba's Grace, a few Kinah and some other items. Your sprint character will automatically receive [Helper] +9 Stigmas matching their class, which can also be mixed with normal Stigmas. In addition, equipping Stigmas only costs 1 Kinah during the event period!
Rewards: You can find an overview of all possible rewards in our list of rewards.
Aphsaranta Attendance Register
Event period: 6/10/2021 to 3/11/2021
Don't worry, this event isn't as dull as it sounds: get a stamp for your Aphsaranta Attendance Register when playing the new battlefield and grab yourself amazing items like the [Event] Ancient to Legendary Special Transformation Contract (28 types), the [Event] Lodas' Greater Golden Star, [Rune] Daevanion Essence as well as other rewards.
The Aphsaranta Attendance Register is available once per account daily. Just log into the game every day from 9 AM.
Rewards: You can find an overview of all possible rewards in our list of rewards.
Kerub's Short Tutorial
Running: 6/10/2021 to 12/1/2022
Whether you're a new or returning player, Kerub's short tutorial will grant you a ton of experience! You can start the tutorial just by clicking the Kerub's Short Tutorial button.
Short Tutorial on Kerub's Short Tutorial:
Instant Growth I: The first mission of the game is really simple to complete so you can easily pocket loads of XP. As a reward you'll get items like +15 Enchanted Ultimate Intense Battle Equipment, Runes and Odians.
Instant Growth II: You've already been on one adventure in Atreia and now you're ready to build on your success. Grab a ton of XP and enjoy rewards like Transformation Potions, Cubelets, and much more.
Bonus Missions: Complete Lugbug Missions, fight your way through dungeons, or explore Aphsaranta – each of these three activities rewards you with Transformation Potions and Ultimate Fragments of Memory.
Note: The final rewards from the tutorial, the [Helper] Kerub Defence Jewel and the [Helper] Kerub Attack Power Jewel, can be registered in your item collection. Both items and the corresponding item collection will be removed from the game after the event is over.
Aphsaranta Adventurer
Running: 6/10/2021 to 12/1/2022
Talk to the Sand NPC in the Guardian Garrison (Elyos) or Archon Garrison (Asmodian) and get the 'Sand Transformation Buff' – Transform into an Aphsaranta Adventurer! This grants you unimaginable powers lasting 1 hour (even after death). However, they only work in Aphsaranta:
Attack speed +55%
Casting speed +50%
Speed +100%
Healing boost +64
Additional PvP attack +188
Additional PvE attack +188
Additional PvP defence +192
Additional PvE defence +192
Accuracy +302
Magical accuracy +302
Crit strike: +264
Crit spell +264
These buffs will perfectly equip you for your adventure in Aphsaranta. Have fun!
The AION Team