ATREIA'S GOT THAT WINTER FEELING

Earn spectacular prizes in the Solorius card game!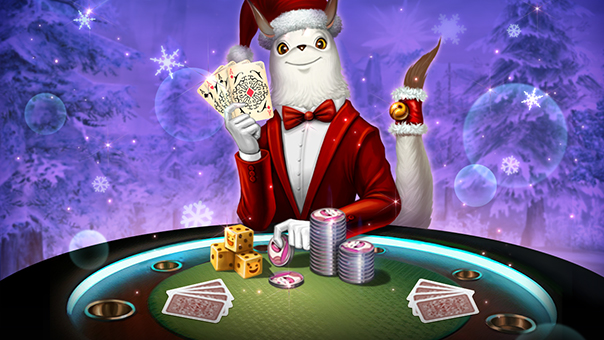 Winter has come to Atreia, bringing not only snow and candlelight, but an exciting card game for you too!
Solorius Card Game
Running: 7th December 2022 to 11th January 2023
Santa Shugo has spared no trouble in laying the cards on the table again this year:
Collect various combinations of playing cards and win yourself some great prizes, including the Transformation Contract: Lumiel, [Rune] Selection Box of Class S Minion Contract (10 types) and [Rune] Ancient Polishing Stone!
The Playing Cards
There are 24 different playing cards in total, each with different symbols and split into 4 suits: clubs, hearts, diamonds, and spades. Each suit includes an ace, king, queen, jack, 10 and a joker. Collect various different combinations of cards to win valuable prizes.
Cards Overview
| | | | |
| --- | --- | --- | --- |
| Spades | Hearts | Diamonds | Clubs |
| Joker of Pessimism (grey) | Joker of Passion (red) | Joker of Serenity (blue) | Joker of Optimism (yellow) |
| Ace of Spades | Ace of Hearts | Ace of Diamonds | Ace of Clubs |
| King of Spades | King of Hearts | King of Diamonds | King of Clubs |
| Queen of Spades | Queen of Hearts | Queen of Diamonds | Queen of Clubs |
| Jack of Spades | Jack of Hearts | Jack of Diamonds | Jack of Clubs |
| 10 of Spades | 10 of Hearts | 10 of Diamonds | 10 of Clubs |
During the event, you'll receive one free playing card in the AION Shop per account per day. Only characters who have reached level 75 are eligible for free cards.
You can give yourself a better chance of winning by buying extra cards from the AION Shop. Available in packs of 24 or 100.
Please note:
The cards are generated at random – you might see some a lot, and others only rarely.
Accounts created after 6th December 2022 are not eligible for these free card giveaways.
Prizes
You can find a list of all the possible combinations and prizes in our rewards list.
Please note: All cards will be removed from the game after the event is over.
Have fun!
The AION Team