EVENTS: HARVEST AND MOON RABBIT

Participate in two great events in the same time period and rake in rewards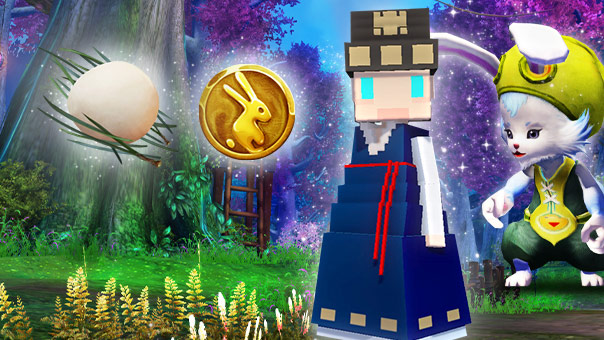 Harvest Revel Festival
Autumn is coming to Atreia and while working in the fields in preparation for the festivities, the Daevas have discovered a great number of Harvest Revel Coins. Since these coins are very much sought after, it will be a simple task for the Daevas to rake in some valuable rewards in exchange.
Running: 7th September to 28th September
An Autumnal Shop Offer
Get a brilliant and limited pack in the AION Shop: The Harvest Revel Pack contains a selection of high-quality items such as transformation contracts, Polishing Stones, Manastones, and Enchantment Stones.
Additionally, you also receive the [Rune] Harvest Revel Coin. You can exchange the coin for various items in the game. You can purchase this pack up to 5 times per account.
Exchange the Coins
The Harvest Revel Coins are especially sought after by the 'Autumn Harvest Master' NPC, whom you can find the in the Gelkmaros Fortress or Inggison Illusion Fortress. He gladly accepts the coins in exchange for some high-quality rewards – including items like the [Rune] Legendary Hanbok Transformation Box (4 types), the [Rune] +3 Extreme Equipment Box and many more!
Please note: The item [Rune] Harvest Revel Coin will be removed from the game at the end of the event.
The Moon Rabbit's Wish
The Moon Rabbit made a wrong turn at Anturoon and is now lost in Atreia. Until just recently, he spent every minute of his day fervently praying for his wishes while minting Wishing Coins. He was so anxious about it that he accidentally dropped his bag of Moonluck.
He's now trying to find his lost wishes in Atreia, but it's turning out to be extremely difficult. So he has turned to the Daeva for help and promises to give them the rest of his possessions in return.
Running: 7th September to 28th September
Get the Moonluck
The Moonluck item contains the [Event] Moon Rabbit's Dream, plus a variety of various random items. It can be purchased in the AION Shop either individually or as a bundle of 11. You can also get 1 free Moonluck per week and account!
As a thank-you for returning his coins, you can take the coins to the Moon Rabbit and exchange them for precious items like [Motion Card] Wish Lantern, [Event] Ultimate Extreme Enchantment Stone and loads more!
Rewards
You can find an overview of all possible rewards in our list of rewards.
Note: The items [Event] Moon Rabbit's Dream and Moonluck will be removed from the game after the event is over.