THE MOON RABBIT'S WISH

Help the Moon Rabbit Search for His Wishing Coins and Earn Rewards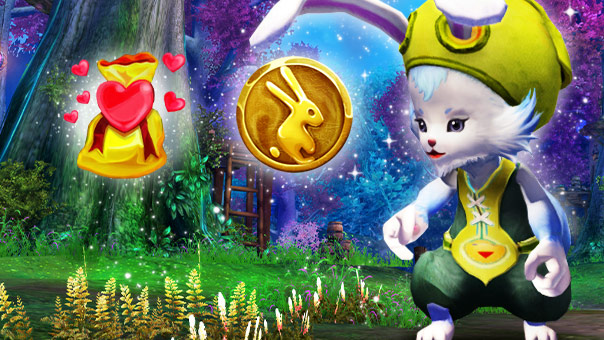 The Moon Rabbit made a wrong turn at Anturoon and is now lost in Atreia. Until just recently, he spent every minute of his day fervently praying for his wishes while minting Wishing Coins. He was so anxious about it that he accidentally dropped his bag of Moonluck.
He's now trying to find his lost wishes in Atreia, but it's turning out to be extremely difficult. So he has turned to the Daeva for help and promises to give them the rest of his possessions in return.
Helpful Daevas can look forward to rewards like the Starlight Hanbok, the [12th Anniversary] Ultimate Transformation Chance (21 types), the [Rune] Selection Box of DP Daevanion Skills and much more!
Running: 8th September to 29th September
Get the Moonluck
The Moonluck item contains the [Event] Moon Rabbit Wish plus a variety of various random items. It can be purchased in the AION Shop either individually or as a bundle of 11. You can also get 1 free Moonluck per week and account!
As a thank you for returning his coins, you can take the coins to the Moon Rabbit and exchange them for precious items.
Rewards
You can find an overview of all possible rewards in our list of rewards.
Note: the items [Event] Moon Rabbit Wish and Moonluck will be removed from the game after the event is over.