THE SPOOKILY SUPER HALLOWEEN EVENT

Show How Fearless You Are and Earn Valuable Items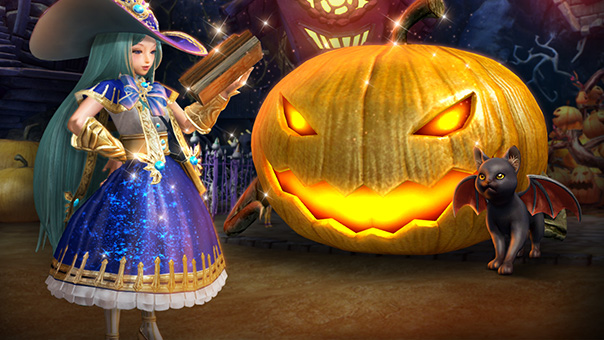 A most uneasy mood spreads across all Atreia, the Pumpkin King is hatching his diabolical plans and the Daeva must prove their courage once more!
If you stay cool you can reap plenty of rewards during the Halloween event: awaiting you are daily quests, challenging Hero Trials and exploding pumpkins. Your bravery will be rewarded with prizes such as the Special Box of Halloween Transformation Contracts (34 types), Mermaid Robe and Mermaid Hair Jewellery, the [Motion Card] Windfire Rings and much more!
Running: 13/10 to 3/11
Daily Halloween Quests
You can complete a quest from Kabe daily to earn yourself two Transformation Potions! The two NPCs Esta and Isuta will be waiting for you in the main bases in Inggison and Gelkmaros. Pay them a visit, receive a quest, and bring them Magic Pumpkins, which you get by defeating Pumpkin Kings.
Explode the Pumpkins
Your enemies in Lakrum and Aphsaranta drop Candy Bombs that you urgently need for your fight against the Pumpkin Kings.
Log in daily and you can get 6 Candy Bombs every 30 minutes. Your hero has to be level 76 and can receive max. 30 Candy Bombs per day.
Hunt the Pumpkin Kings in the instances listed and blow them up with the event bombs – it's the only way to defeat them! Defeat an event boss and you will receive 1 Pumpkin King's Bundle as well as 1 Magic Pumpkin.
Here is a full list of the instances in which the Pumpkin Kings appear:
Hererim Mine
Prometun's Workshop (normal/hard)
Stella Development Laboratory (easy/normal)
Beninerk's Manor (easy/normal)
Ara Infernalia (easy/normal)
Beshmundir Storm Temple (easy/normal)
Heart of Aphsaranta
The Hero Trials
To fend off the threat from the Pumpkin King's followers you must battle the Pumpkin monsters head-on. Brand new solo player Hero Trial quests are waiting for you each week – successfully complete them and get additional rewards!
[Account][Solo] Kabe's Request: Visit Kabe and complete his quest daily.
[Weekly][Account][Solo] Pumpkin Invasion: Defend Atreia from the invasion of pumpkins.
[Weekly][Account][Solo] Pumpkins in the Lower Udas Temple: Purge the Lower Udas Temple of pumpkins.
Rewards
You can find details on the rewards and the exchange of Halloween Pumpkins in our reward list.
Notes
The Hero Trials marked '[Account]' can only be completed once per account. The Hero Trials marked [Solo] can only be completed as a solo player, not as part of a group. You can collect your rewards from the mailbox in the shop. You can assign them to a character from there (Manage bonuses → Allocatable rewards).