THE SHUGO GAME

Now you can win valuable items at the Black Cloud Merchants!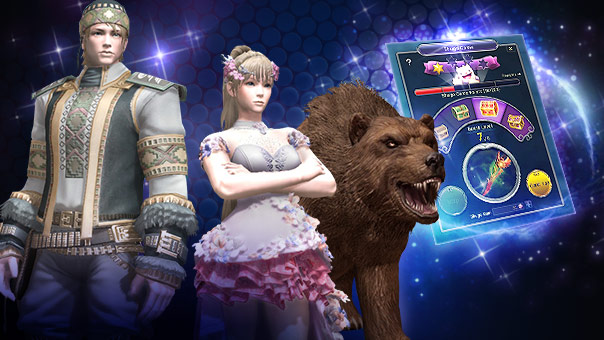 The Black Cloud Merchants are running their popular Shugo Game again! Play to win valuable prizes – including: the +9 Extreme Weapon Selection Box, some Calyx Robes, a Calyx Bonnet, as well as the Aggressive Bear.
Running: 9th March to 30th March
You'll need Shugo Game Tokens to take part, and you can buy those in the shop at the beginning of the event. During the event, you'll also get three free Shugo Game Tokens per week in the AION Shop.
How the Shugo Game Works
Click on the Shugo symbol at the bottom-right of your screen to open the Shugo Game.
Then click on 'Continue' to start the game. This will use a Shugo Game Token.
Try to upgrade the weapon to its maximum level (8) to earn the highest level reward.
Any time you want, you can click on 'Stop' to end the game and you'll get the reward for the level you got up to.
It's also possible for upgrading to fail. Should this happen, you will receive the level 1 reward. If you want to restart the game you'll need another Shugo Game Token.
Using Shugo Game Tokens fills the bar at the top with Shugo Game Points. Once it's full, this triggers the Nyerk Fever. While active, your chances of successfully upgrading and of winning more valuable prizes both increase.
Please note
At the end of the event the [Jakunerk] Shugo Game Tokens and Lucky Coins will be removed from the AION Shop.
Logging out or switching characters while playing a Shugo Game will automatically give you the prize for the level you got up to. You cannot continue the game.
If you reach level 6 or higher and the upgrade fails, you can use two additional Shugo Game Tokens to try again from the level you failed at.