Return to the Shugo Imperial Tomb

In-game event running from 18/7 to 8/8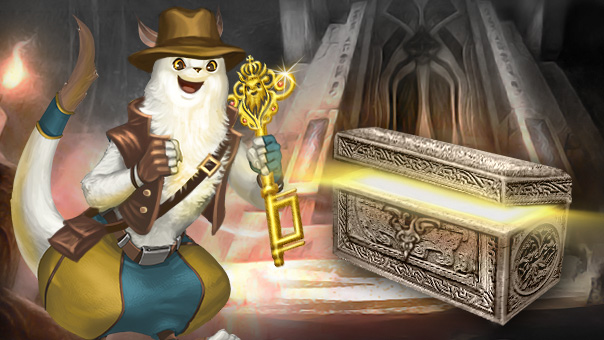 The Shugo Imperial Tomb will once again be opening its gates to players level 45 and up between 18/7 and 8/8/2018. Seek out Indiana Jonshunerk in Sanctum or Pandaemonium to enter the instance in the form of a Shugo Warrior. Together with one to two fellow players, stop the tomb raiders who have their eyes on the treasures of this lost empire.
Amazing rewards are once again yours for the taking, such as the Ancient Fallusha's Enhanced Weapon Chest, the Ancient Fallusha Enhanced Accessory Chest, +11 Manastone Bundle, a Box containing a Sporty Swimsuit, a Sporty Bathing Cap Box, [Jakunerk] Superior Upgrade Serum and much more.
A list of all rewards can be found below the news article.
Starting 18th July, you will find some useful items for your excursion into the instance in the AION Shop: the Entry Scroll for the Shugo Imperial Tomb increases the number of visits you can take to the instance by one, meaning you can dive right back into the tomb. In the burial chamber of the Emperor, Empress and the Crown Prince there are valuable chests waiting, which you can alternatively open using the Indestructible Treasure Chest Key from the AION Shop instead of the in-game keys.
Rewards
Reward
3x Key
(Chest)
Ancient Fallusha Enhanced Weapon Chest
Ancient Fallusha Enhanced Accessory Chest
Bundle of Skill Cards
[Skill Card] Wild Dunking
[Skill Card] Red Card of Mockery
[Skill Card] Linebacker Massacre
[Skill Card] Targeting Egg
[Skill Card] Frogmouth Home Run
[Skill Card] Brown Bear's Wrath
[Skill Card] Strike
[Skill Card] Healing Cheer
[Skill Card] Coin Cannon
[Skill Card] Snow Axle
[Skill Card] Skip Strike
[Jakunerk] Superior Upgrade Serum
+11 Manastone Bundle
Storm Kirrin Box
Water Dragon King's Noble Weapon Box
Magic Stone of Level Reduction
Minionite
All-Powerful Enchantment Stone
Box of Noble Illusion Godstones
Lucky Box
Box containing a Sporty Swimsuit
Holy Upgrade Serum
Lodas' Silver Star
Sporty Bathing Cap Box
[Motion Card] Fun Outing
Cute Minion Contract (14 Species)
Powerful Enhancement: Level 2 Bundle
Box of Soft Dyes
Shattered Spinel
Ancient Chalice
[Emotion Card] Blue Inflatable Bird
[Emotion Card] Rainbow Air Bed
Recovery Tea - 100% recovery
Lodas' Golden Star
Spinel Medal
+10 Manastone Bundle
+9 Manastone Bundle
+8 Manastone Bundle
Box of Glittering Robes
Recovery Tea - 50% recovery
Ascended Transformation Candy Box
[Jakunerk] Bundle of Recovery Serum for High Daevas
[Jakunerk] Normal Manastone Bundle for High Daevas
Illusion Godstone: Kasika's Shackles
Illusion Godstone: Consierd's Assault
Illusion Godstone: Saendukal's Assault
Illusion Godstone: Zapiel's Wave
Illusion Godstone: Alukina's Echo
Illusion Godstone: Padmarashka's Illusion
Illusion Godstone: Andre's Binding
Illusion Godstone: Ragnarok's Curse
Illusion Godstone: Omega's Growl
Phoenix Wings
[Jakunerk] Fire Dragon King's Shimmering Weapons Chest
Panda's Go-Kart
Shattered Spinel
Spinel Medal
1
1
1
1
1
1
1
1
1
1
1
1
1
1
1
1
1
1
2
15
2
2
1
1
3
2
1
1
1
1
1
6000
8
1
1
2
4
10
1
1
1
1
3
2
40
10
1
1
1
1
1
1
1
1
1
1
1
1
5000
12
Reward
1x Key
(King)
Ancient Fallusha Enhanced Weapon Chest
Ancient Fallusha Enhanced Accessory Chest
Bundle of Skill Cards
[Skill Card] Wild Dunking
[Skill Card] Red Card of Mockery
[Skill Card] Linebacker Massacre
[Skill Card] Targeting Egg
[Skill Card] Frogmouth Home Run
[Skill Card] Brown Bear's Wrath
[Skill Card] Strike
[Skill Card] Healing Cheer
[Skill Card] Coin Cannon
[Skill Card] Snow Axle
[Skill Card] Skip Strike
[Jakunerk] Superior Upgrade Serum
+11 Manastone Bundle
Storm Kirrin Box
Water Dragon King's Noble Weapon Box
Magic Stone of Level Reduction
Minionite
All-Powerful Enchantment Stone
Box of Noble Illusion Godstones
Lucky Box
Box containing a Sporty Swimsuit
Holy Upgrade Serum
Lodas' Silver Star
Sporty Bathing Cap Box
[Motion Card] Fun Outing
Cute Minion Contract (14 Species)
Powerful Enhancement: Level 2 Bundle
Box of Soft Dyes
Shattered Spinel
Ancient Chalice
[Emotion Card] Blue Inflatable Bird
[Emotion Card] Rainbow Air Bed
Recovery Tea - 100% recovery
Lodas' Golden Star
Spinel Medal
+10 Manastone Bundle
+9 Manastone Bundle
+8 Manastone Bundle
Box of Glittering Robes
Recovery Tea - 50% recovery
Ascended Transformation Candy Box
[Jakunerk] Bundle of Recovery Serum for High Daevas
[Jakunerk] Normal Manastone Bundle for High Daevas
Shattered Spinel
Spinel Medal
1
1
1
1
1
1
1
1
1
1
1
1
1
1
1
1
1
1
1
10
1
1
1
1
1
1
1
1
1
1
1
2000
3
1
1
1
1
3
1
1
1
1
1
1
20
3
1500
3
Reward
1x Key
(Queen)
Ancient Fallusha Enhanced Weapon Chest
Ancient Fallusha Enhanced Accessory Chest
Bundle of Skill Cards
[Skill Card] Wild Dunking
[Skill Card] Red Card of Mockery
[Skill Card] Linebacker Massacre
[Skill Card] Targeting Egg
[Skill Card] Frogmouth Home Run
[Skill Card] Brown Bear's Wrath
[Skill Card] Strike
[Skill Card] Healing Cheer
[Skill Card] Coin Cannon
[Skill Card] Snow Axle
[Skill Card] Skip Strike
[Jakunerk] Superior Upgrade Serum
+11 Manastone Bundle
Storm Kirrin Box
Water Dragon King's Noble Weapon Box
Magic Stone of Level Reduction
Minionite
All-Powerful Enchantment Stone
Box of Noble Illusion Godstones
Lucky Box
Box containing a Sporty Swimsuit
Holy Upgrade Serum
Lodas' Silver Star
Sporty Bathing Cap Box
[Motion Card] Fun Outing
Cute Minion Contract (14 Species)
Powerful Enhancement: Level 2 Bundle
Box of Soft Dyes
Shattered Spinel
Ancient Chalice
[Emotion Card] Blue Inflatable Bird
[Emotion Card] Rainbow Air Bed
Recovery Tea - 100% recovery
Lodas' Golden Star
Spinel Medal
+10 Manastone Bundle
+9 Manastone Bundle
+8 Manastone Bundle
Box of Glittering Robes
Recovery Tea - 50% recovery
Ascended Transformation Candy Box
[Jakunerk] Bundle of Recovery Serum for High Daevas
[Jakunerk] Normal Manastone Bundle for High Daevas
Shattered Spinel
Spinel Medal
1
1
1
1
1
1
1
1
1
1
1
1
1
1
1
1
1
1
1
5
1
1
1
1
1
1
1
1
1
1
1
1800
2
1
1
1
1
3
1
1
1
1
1
1
15
3
1400
3
Reward
1x Key
(Jack)
Ancient Fallusha Enhanced Weapon Chest
Ancient Fallusha Enhanced Accessory Chest
Bundle of Skill Cards
[Skill Card] Wild Dunking
[Skill Card] Red Card of Mockery
[Skill Card] Linebacker Massacre
[Skill Card] Targeting Egg
[Skill Card] Frogmouth Home Run
[Skill Card] Brown Bear's Wrath
[Skill Card] Strike
[Skill Card] Healing Cheer
[Skill Card] Coin Cannon
[Skill Card] Snow Axle
[Skill Card] Skip Strike
[Jakunerk] Superior Upgrade Serum
+11 Manastone Bundle
Storm Kirrin Box
Water Dragon King's Noble Weapon Box
Magic Stone of Level Reduction
Minionite
All-Powerful Enchantment Stone
Box of Noble Illusion Godstones
Lucky Box
Box containing a Sporty Swimsuit
Holy Upgrade Serum
Lodas' Silver Star
Sporty Bathing Cap Box
[Motion Card] Fun Outing
Cute Minion Contract (14 Species)
Powerful Enhancement: Level 2 Bundle
Box of Soft Dyes
Shattered Spinel
Ancient Chalice
[Emotion Card] Blue Inflatable Bird
[Emotion Card] Rainbow Air Bed
Recovery Tea - 100% recovery
Lodas' Golden Star
Spinel Medal
+10 Manastone Bundle
+9 Manastone Bundle
+8 Manastone Bundle
Box of Glittering Robes
Recovery Tea - 50% recovery
Ascended Transformation Candy Box
[Jakunerk] Bundle of Recovery Serum for High Daevas
[Jakunerk] Normal Manastone Bundle for High Daevas
Shattered Spinel
Spinel Medal
1
1
1
1
1
1
1
1
1
1
1
1
1
1
1
1
1
1
1
3
1
1
1
1
1
1
1
1
1
1
1
1620
1
1
1
1
1
3
1
1
1
1
1
1
10
3
1300
3