Lucky Dice and Solorius Lottery

The In-Game Events from 30/11 to 28/12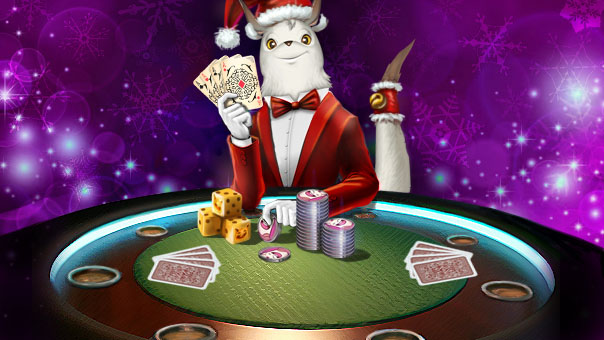 Winter is coming and with it comes the Grand Solorius Lottery and the brand new 'Lucky Dice'. Collect playing cards and play a few rounds on the game board to win some valuable prizes! Good luck!
Lucky Dice
The Shugos have come up with a brand new game to bring more variety into the daily grind of combat. Throw the dice and play a few rounds on the game board from 30/11 to 21/12. You could win valuable items - depending on which space you land on.
Open the game via the corresponding icon (golden dice) at the bottom right of your UI. To take part you'll need dice. We'll give you 2 during the event period. You can also pick up a free die in the AION Shop every day (1 per account). This means you'll receive 9 dice per week.
Every die will allow you to move forward 1 to 6 spaces. You will receive a corresponding prize and the space will be marked with a green tick.
Once you have been around the board once and you are potentially going to land on a space you have already been on, the space will be skipped and you will land on a neighbouring space.
Please note: the board will be reset every Wednesday. You will then go back to the start of the board again and the green ticks on the board will be deleted.
The Grand Solorius Lottery
What's the event all about?
Collect playing cards in various combinations between 30/11 and 28/12 and win some great prizes – including Shugo Game Tokens for the Shugo Game, a box of Mighty Supplements, manastones or with a bit of luck a level 12 Golden Feather.
What are playing cards?
There are a total of 24 different playing cards with the usual symbols you know from poker, for example: clubs, hearts, diamonds and spades. Each suit contains an ace, king, queen, jack, 10 and a joker. Collect various combinations of cards to win valuable prizes.
An overview of the individual suits:
| | | | |
| --- | --- | --- | --- |
| Spades | Hearts | Diamonds | Clubs |
| Joker of Pessimism (grey) | Joker of Passion (red) | Joker of Serenity (blue) | Joker of Optimism (yellow) |
| Ace of Spades | Ace of Hearts | Ace of Diamonds | Ace of Clubs |
| King of Spades | King of Hearts | King of Diamonds | King of Clubs |
| Queen of Spades | Queen of Hearts | Queen of Diamonds | Queen of Clubs |
| Jack of Spades | Jack of Hearts | Jack of Diamonds | Jack of Clubs |
| 10 of Spades | 10 of Hearts | 10 of Diamonds | 10 of Clubs |
Where do I get the playing cards?
If you log into the game between 29/11 and 27/12 and stay online for at least 30 minutes in one sitting, a free playing card will be sent to you by in-game post the following day – with a maximum of one per day. Only characters who have reached level 15 will be eligible to receive free cards.
To increase your chances of winning, you can purchase additional cards in the AION shop. Starting 3/11 they will be available as individual cards or in bundles of 24 or 100.
Please note:
Please note that the cards are generated at random. Some will appear frequently, others less so.

The first free card will be delivered on 30/11. In order to get this card, you'll have to be logged in for at least half an hour on 29/11!

The last free card will be delivered on 28/12. Similarly here, you'll only receive this card if you were logged in for 30 minutes on the previous day (27/12)!
Note: Accounts created after 28/11/2016 (23:59 PM CET) will not be included in the allotment of free playing cards!
All cards will be deleted from the inventory during the server maintenance on 4/1/2017.
What prizes can I win?
There are loads of different prizes that require various card combinations in order to win. A complete overview can be found below this news article.
How do I receive my prizes?
When a playing card is given out, we save the information about which card it is in our database. This gives us a constant overview of all the cards in your possession so we can regularly check to see if you have won any prizes. The items will then be sent to you via the in-game post.
A card can be part of multiple combinations. For example, if you have all the cards in the diamond suit, plus the ace of hearts, ace of spades and ace of clubs, you will receive two prizes – one for having the full set of diamonds, plus one for having all four aces, i.e. three Upgrade Serums of Luck and one Holy Wings Chest of the Master Executor Commander. The ace of diamonds thus counts for both.
If you manage to collect all 24 cards, then you will receive every single prize listed once. If you then succeed in collecting all cards twice, you will receive every prize twice – with the exception of the main prize (the level 12 Golden Feather). This will only be awarded once per character.
How do I receive the feather?
Once you own every card once, we will send you an in-game message. Reply to the message and let us know which of the +12 feathers you would like to have.
These are the prizes:
Win combination
Prize

all 24 cards

1x Enhanced Golden Feather Att/Mag. Att. +12

all 6 cards in the 'Spades' category (including joker)

2x Mighty Socketing Aid Box

all 6 cards in the 'Hearts' category (including joker)

3x +9 Manastone Bundle

all 6 cards in the 'Diamonds' category (including joker)

3x Upgrade Serum of Luck

all 6 cards in the 'Clubs' category (including joker)

2x [Jakunerk] Mythical Armour Chest

all 4 jokers

3x Magic Stone of Level Reduction

all 4 aces

1x [Jakunerk] Holy Wings Chest of the Master Executor Commander

all 4 kings

2x +7 Manastone Bundle

all 4 queens

4x Revival Stone

all 4 jacks

2x Enchantment Stone

all 4 tens

5x [Jakunerk] Crafting Stone Box for High Daevas

Spades: 10, jack, queen, king, ace




(5 cards)

10x Special Stigma Box

Hearts: 10, jack, queen, king, ace




(5 cards)

1x Shugo Game Token

Diamonds: 10, jack, queen, king, ace




(5 cards)

3x Ceranium Medal

Clubs: 10, jack, queen, king, ace




(5 cards)

2x Transformation Candy: Super Desert Fox

20x of any identical card

5x [Jakunerk] Spirit Stone of Eternity Bundle
5x [Jakunerk] Spirit Stone Bundle for High Daevas


This is the value of the Enhanced Golden Feather (main prize):
| Base stats 1 | | Base HP | Base stats 2 | | Bonus HP |
| --- | --- | --- | --- | --- | --- |
| Attack | 59 | 1500 | Crit. Strike | 183 | 2100 |
| Attack | 59 | 1500 | Accuracy | 196 | 2100 |
| Crit. Strike | 171 | 1500 | Attack | 61 | 2100 |
| Crit. Strike | 171 | 1500 | Accuracy | 196 | 2100 |
| Magic Boost | 277 | 1500 | Magical Accuracy | 122 | 2100 |
| Magic Boost | 277 | 1500 | Crit. Spell | 98 | 2100 |
| Magical Accuracy | 118 | 1500 | Magic Boost | 305 | 2100 |
| Magical Accuracy | 118 | 1500 | Crit. Spell | 98 | 2100 |