3.0 Feature Preview - Mounts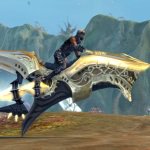 Even Daeva wings need a break - Mounts in 3.0
With the upcoming 3.0 Content Update, AION will receive a bunch of new features we would like to introduce to you in the next few weeks.
Mounts
Even Daeva wings need a break sometimes. To recover stressed wings AION 3.0 offers a new mount system to travel on the ground and even in the air.
Mounts can be acquired by speaking to the mount merchant or via crafting. There are various differences concerning the rarity and level which mainly show in speed.
In addition to the normal travelling speed of your mount, it is possible to sprint for a short time if you are in a hurry.

To give you a small insight into this new system, we've prepared a small video to introduce the mounts:




Available mounts in 3.0:
Surfrider: A lively little Mount which reminds of a whale. You can see its bigger brother flying up in the sky of various starting areas like Altgard. This mount can be bought from the NPC and is suited for starters at level 30. There is also a level 60 version available.
Sharptooth: Biker feeling in AION. This fancy bike can be crafted and available for players at level 58. With a little bit of luck it is possible to craft a level 60 version.
Cirrusspeed: Surf on clouds. This fluffy pillow of clouds can be used at level 30.
Pagati: A dragon-like mount which is suited for players that reached the end levels. You can obtain this mount either as a drop from the last boss at Rentus Base or exchange Kahrun Symbols for it.