AION hits 5 years
Celebrate the anniversary with us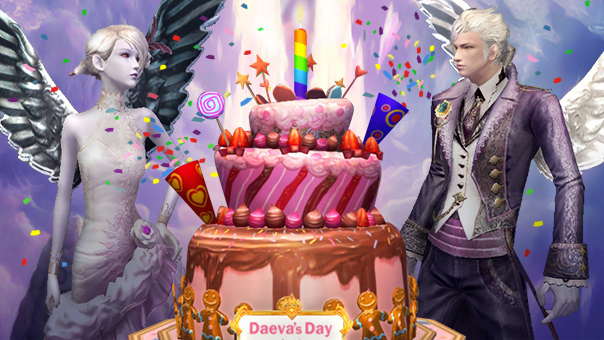 Greetings Daeva!

On 25.09.2009, the gates to Atreia opened for the first time for European players. Since this time, millions of heroes have been fighting on the sides of the Asmodians and Elyos for the survival of their people.
5 eventful years are now behind us and there is still much that lies ahead. We have already set the latest milestone for 24.09.2014, with the 4.6.2 update to be rolled out onto the servers.

To richly celebrate the fifth anniversary, the following in-game events will be waiting for you over the coming days and weeks:

Feathers of the Lord

Timeframe (NPC): 17.09 - 08.10.2014
NPC: Daklon (Asmodian); Demain (Elyos)
Location: Pandaemonium, Sanctum
Minimum level: 10

The Lords are smiling upon you! For every half an hour that you are logged in, you will receive a Feather of the Lord – with a maximum of 8 per day (ends 24.09). On Daeva Day (25.09), you will get 4 feathers for each half an hour, with the maximum set to 96! If you have already reached level 30, you can double click on it and it will transform into a blue, red, green or yellow feather. Combine four of these together (one of each colour) and you will receive the Gold Wings of the Lord. These in turn can be dismantled into golden feathers which you can then exchange for rewards with Daklon and Demain (ends 8.10).


Cake Hunt

Timeframe: 17.09 - 01.10.2014
NPC: Ratatouille's Cakes
Location: all over Atreia (excluding the start areas and in the Abyss)

Tasty cakes are an integral part of any birthday celebration. With this in mind, the baker Ratatouille has hidden sweet calorie bombs of varying sizes all over Atreia. Find them and you will receive a Lord's Gift Box, containing scrolls and potions. The large cakes will give you a Feather of the Lord in addition.


Birthday Presents

Timeframe: 24.09 - 08.10.2014
NPC: Lordwing
Location: Pandaemonium, Sanctum
Minimum level: 10

AION has its birthday, but you are the ones getting the presents! Pay Lordwing a visit and select a skin for your wings. No matter which one you choose, the skin will change your wings' appearance for 7 days.


Blessed Buffs

Timeframe: 25.09 - 28.09.2014
NPC: Soplin (Asmodian); Sopler (Elyos); Cake for Daeva Day
Location: Pandaemonium, Sanctum
Minimum level: 10

To celebrate the occasion, Soplin and Sopler are handing out buff scrolls daily in the capitals, which will give you +100% experience and +100% skill points.
In addition, tasty cakes in celebration of Daeva Day will be placed in the capitals. Click on them and you will receive +100% EP for the next 2 hours.