The event in April: Atreia Hold 'em

Collect playing cards and win valuable items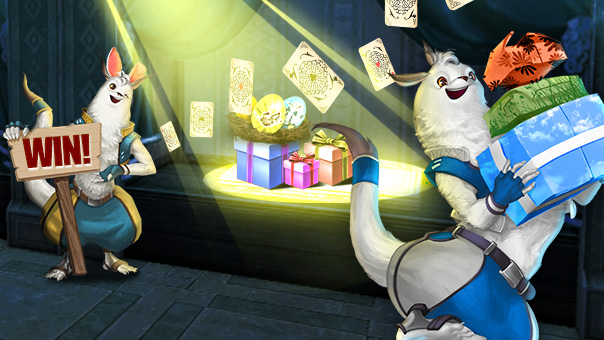 Spring is here and with it comes a hot new game event: Atreia Hold 'em. Collect playing cards and with a little luck, win some valuable prizes!

What's the event all about?

Collect playing cards in various combinations from 16th April to 7th May 2014 and win some great prizes – including the Godstone: Khrudgelmir's Silence, mail attachment approvals, Golden Saam Egg and much more, L150 Enchantment Stone and plenty of others too.

What are playing cards?

There are a total of 24 different playing cards with symbols that you will probably know from poker: clubs, hearts, diamonds and spades. In each of these categories there are the cards ace, king, queen, jack, 10 and a joker. Gather various combinations of cards to win valuable prizes.

An overview of the individual card sets:
| | | | |
| --- | --- | --- | --- |
| Spades | Hearts | Diamonds | Clubs |
| Joker of Pessimism (grey) | Joker of Passion (red) | Joker of Serenity (blue) | Joker of Optimism (yellow) |
| Ace of Spades | Ace of Hearts | Ace of Diamonds | Ace of Clubs |
| King of Spades | King of Hearts | King of Diamonds | King of Clubs |
| Queen of Spades | Queen of Hearts | Queen of Diamonds | Queen of Clubs |
| Jack of Spades | Jack of Hearts | Jack of Diamonds | Jack of Clubs |
| 10 of Spades | 10 of Hearts | 10 of Diamonds | 10 of Clubs |
Where do I get the playing cards from?

If you log in between the dates of 16th April and 7th May and are then online for at least 30 minutes per day, a free playing card will be sent to you through the in-game post on the follow-up day – with a maximum of one being sent per day.
To increase you chances of winning you can purchase additional cards in the AION shop. They will be available as individual cards or also in bundles of 24 or 100.
Please note the cards are generated at random – some will appear more frequently, some less so.
Note: accounts that have been created after 15.04.2014 (23:59) are not included in the allocation of the free playing cards!


What prizes can I win?

There are loads of different prizes that require various card combinations in order to win. A complete overview can be found below this news article.


How do I receive my prizes?

When a playing card is given out, we save its information on our database. In doing so, we have an overview of all the cards in your possession and are able to regularly check to see if you have won any prizes. The items will then be sent to you in the in-game post.

A card can be part of multiple combinations. If you have all the diamond cards and an ace of hearts, spades and clubs in addition, for example, you will receive two prizes: one for the entire set of diamonds and one for having all four aces (in this instance a Ceranium Medallion and a Mithril Medal). The ace of diamonds will then be recognised twice.

If you manage to collect all 24 cards, you will then receive every single prize listed once. If you then manage to collect all cards twice, you will then correspondingly receive every prize twice – with the exception of the main prize, the Godstone: Khrudgelmir's Silence. This will only be handed out once per character.

Good luck!
Overview of the winning combinations and prizes:
| | | |
| --- | --- | --- |
| Win combination | Prize | Amount |
| all 24 cards | Godstone: Khrudgelmir's Silence | 1 |
| all 6 cards in the 'Spades' category (including joker) | Bundle of mail attachment approvals (Abyss) | 1 |
| all 6 cards in the 'Hearts' category (including joker) | 100% Manastone Socketing Aid (Mythical) | 1 |
| all 6 cards in the 'Diamonds' category (including joker) | Ceranium Medallion | 1 |
| all 6 cards in the 'Clubs' category (including joker) | Major Ancient Crown | 1 |
| all 4 jokers | Bundle of mail attachment approvals | 1 |
| all 4 aces | Golden Saam Egg and much more | 1 |
| all 4 kings | Greater Running Scroll (1 hour) | 3 |
| all 4 queens | Mithril Medal | 1 |
| all 4 jacks | Premium Restoration Potion | 35 |
| all 4 tens | Especially large Power Shard of Glory | 1 |
| Spades: 10, jack, queen, king, ace (5 cards) | L150 Enchantment Stone | 3 |
| Hearts: 10, jack, queen, king, ace (5 cards) | Elemental Stone of Resurrection | 2 |
| Diamonds: 10, jack, queen, king, ace (5 cards)) | Fast Aionman Transformation Candy | 1 |
| Clubs: 10, jack, queen, king, ace (5 cards) | Ancient Coin | 2 |
| 20x of any identical card | Mighty Supplements (Eternal) | 15 |