New Items in the AION Shop

Iridescent Aether Treasure with Godstones, Kumiho Set, Hair Style Changes and more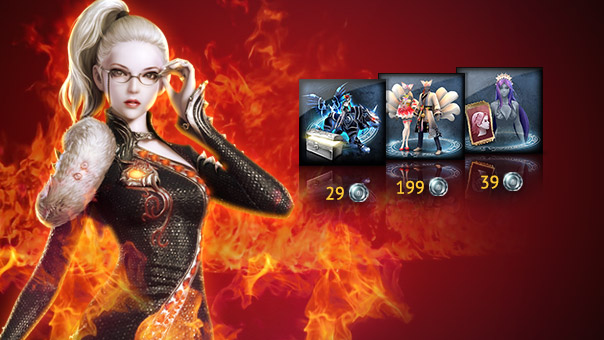 Week on week you'll find new and useful items for your adventure or cool skins for your personal heroic outfit in the AION shop. Today, a new delivery has arrived which enriches the product range quite extensively: 
The treasure chest within Munirunerk's Treasure Chamber now has even more exciting items! A full list of rewards can be viewed further down this news post.
The following items are now available:
The following items are only available in the shop for a week:
Visit the AION shop now!
Here you can find a video to illustrate today´s shop update – it was made by two of our players who are also part of our QA-Team:
| Reward | Amount |
| --- | --- |
| Bundle of Skill Cards | 1 |
| Magic Stone of Level Reduction | 1 |
| [Jakunerk] Master Executor Commander's Armour Chest | 1 |
| Greater Stigma Bundle | 1 |
| Bundle of Illusion Godstones | 1 |
| [Jakunerk] All-Powerful Enchantment Stone | 1 |
| [Jakunerk] Holy Upgrade Serum | 1 |
| Spinel Medal | 3 |
| Major Ancient Crown | 3 |
| [Jakunerk] Box: Insignia of Honour | 10 |
| Battle Medal | 25 |
| [Jakunerk] Fabled Godstone Bundle | 1 |
| Lodas' Golden Star | 2 |
| Shattered Spinel | 100 |
| [Jakunerk] Bundle of Heroic Godstones | 1 |
| Verdin's Noble Amulet II | 1 |
| Dragon Meat Salad with Oil Dressing and Fresh Plumbo | 20 |
| Revival Stone | 2 |
| Noble +5 Manastone Bundle | 1 |
| Ceranium Medal | 1 |
| Fortified Recovery Serum | 40 |
| Refined Recovery Serum | 20 |
| Running Scroll | 40 |
| Awakening Scroll | 40 |
| [Jakunerk] Drana Coffee | 15 |
| Recovery Tea - 20% recovery | 2 |
| [Jakunerk] Box: Insignia of Honour | 3 |
| Saam King's Herbs | 15 |