Spring lottery is here!
Collect tickets and win amazing prizes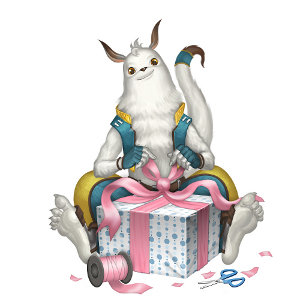 Greetings, Daeva!

The mosbears are awakening from their hibernation, the agrints are budding and the mookies are losing their Winter fluff: Spring is here! To celebrate it in style, we're launching the Spring lottery and holding a prize draw for useful items.
What is the Spring lottery?
From 4th April until 16th April, gather the 20 Spring tickets in various combinations and win great prizes – including Godstones, socketing with 100% success chance, Mithril Medals, Ancient Crowns and much more.
Where can I get Spring tickets?

When you log in to the game on any day in the period between 3rd April and 15th April, on the following day two free Spring tickets will be delivered to you via Shugo Express. To increase your chances of winning, you can also purchase additional tickets in the AION Shop.
Please note, the numbers on the tickets are generated at random – some numbers will appear more frequently, others rarely.

How do I receive my prizes?

Each night the little Shugos will glance into your inventory and will be on the lookout for winning combinations. If they find some, they will take the corresponding tickets and will then send you your prize later via in-game post.

What prizes can I win?

There are many different prizes that all require a different ticket combination. Here is a detailed overview.

The Shugos will also search for the most valuable combination for you. Where many possible ticket combinations exist in your inventory, you will always receive the prize that is most valuable.

How can I collect my tickets for the bigger prizes?

The Shugos only check in your inventory, not in the character warehouse or your mailbox. If you wish to set your tickets to one side to save them for one of the main prizes, you should stow them in your warehouse. But do not forget to place them back in your inventory as soon as you have all the tickets required for a combination!
(Click to enlarge)
Combinations/
Ticket number
Amount of
Prizes
Prize
10 of the same number
3
Verdin's Special Amulet III
2 numbers in a row
1
Lodas's Amulet II
3 numbers in a row
300
Major Life Serum 
4numbers in a row
10
Reviving Elemental Stone
5 numbers in a row
10
Perer Aether Jelly
6 numbers in a row
500
Greater Running Scroll
7 numbers in a row
250
Greater Supplements (Eternal)
8 numbers in a row
10
Crafting Skill Improvement Scroll II
9 numbers in a row
20
AP Scroll I
10 numbers in a row
5
Ancient Crown
11 numbers in a row
5
Mithril Medal
12 numbers in a row
10
Ancient Crown
13 numbers in a row
15
OK Enchantment Stone Box
14 numbers in a row
4
L120 Enchantment Stone
15 numbers in a row
2000
Greater Supplements (Eternal)
16 numbers in a row
25
Ancient Crown
17 numbers in a row
20
Mithril Medal
18 numbers in a row
10
Blessed Manastone Socketing Supplements (Fabled)
19 numbers in a row
10
Blessed Manastone Socketing Supplements (Eternal)
20 numbers in a row
1
Godstone: Khrudgelmir's Silence