Create your own wings

Design, win and become a part of AION!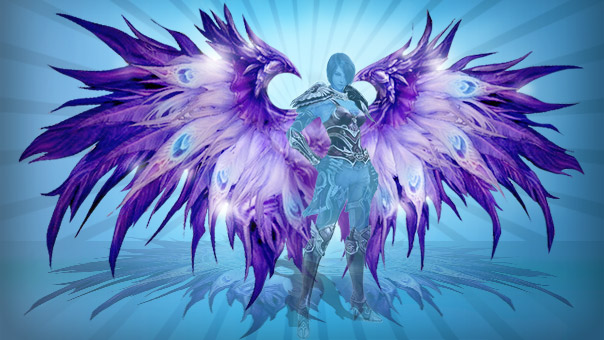 We're looking for creative minds and master designers to give Atreia a new set of wings! Weapons designs for the new classes have already made it into the game in the past. This time it's the wings! Gameforge and NCSOFT are searching for the prettiest, most functional and coolest wing designs in all Atreia. There are valuable prizes in store for the winners too!

Send your design to wingsofatreia@aionfreetoplay.com. We'll preselect some designs and send your ideas to NCSOFT, who will choose the winner and make their idea part of the game.

How can I take part?
The contest starts on 15th May 2015, with a submission deadline of 28th May 2015.
Send your design ideas to wingsofatreia@aionfreetoplay.com
Don't forget to tell us your character names and the name of the server that you play on.
As long as the work comes from you, you have free reign over how you want to create your design: digitally or by hand. You don't have to be a talented illustrator – the idea itself is what counts!
Of course you can also attach notes (in English) to explain your ideas.
The AION team will draw up a preselection and forward the best designs to NCSOFT.
Three winners will then be announced who can look forward to valuable prizes.
Important information:
You must be at least 18 years old to take part in our contest.
Please note: due to the fact that the material prize can only be delivered within European Union member states, users living outside of the EU are unfortunately ineligible for participation.
NCSOFT will decide which design makes it into the game and will confirm the winner as soon as possible.
Prizes:
We'll be giving the winners a component computer as well as other valuable prizes to be proud of. You can find further information about the prizes further down in the news.

We're excited to see what designs will be winging their way to us and will keep our fingers crossed for you all you creative minds out there!

The AION Team
1st Place
1x One GameStar PC Pro
1x Feather of the Lord (Level +8)
2nd Place
1x Feather of the Lord (Level +8)
1x Lightning Wings
1x Speedy Space Glider
1x Fire Dragon King weapon of your choice
3rd Place
1x Feather of the Lord (Level +8)
1x Lightning Wings
Information about the component computer:
'One GameStar PC Pro'
Chassis: AeroCool Xpredator X1 Evil Black Edition
Motherboard: MSI Z87-G43
Processor: Intel Core i5-4670K 4x 3.40GHz
RAM: 4096MB DDR3 PC1600 Corsair XMS3
HDDs: 3.5'' 1000GB SATA III; SSD 2.5'' 60GB SATA III Kingstin SSDNow V300
Graphics card: NVIDIA Geforce GTX760 2GB GDDR5
OS: Windows 8.1