NOW LIVE: UPDATE 8.2

Dive into new adventures and experience lots of fantastic new features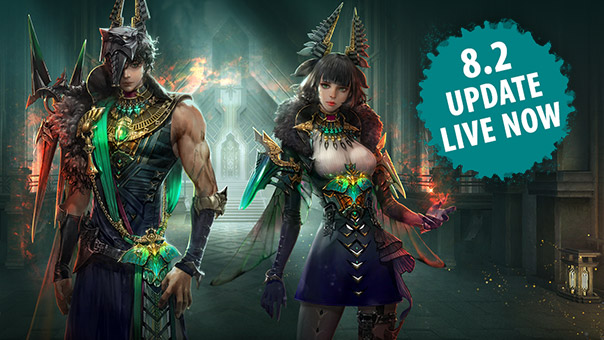 It's here: AION 8.2 is now live on the European servers!
What's New?
Challenging difficulty level: A new difficulty level awaits in the Heart of Aphsaranta. The new challenge can be tackled by 2 to 6 players from level 81. You can join twice a week, and you can increase this number using magical crafting.
New Corps Quest Season: You'll encounter extreme monsters much more often in the new corps quest, and the garrison guards will also be stronger. Are you ready to face them?
New life in the corps: In Aphsaranta, Nezekan and Zikel now lead the corps. The corps glory has been reset, and the merchants Diothes and Nojina have some new goods on offer. There are also new quests and rewards.
Improved posting quest: The number of posting quests you can carry out increases as you reach certain corps glory levels. You'll also now receive various rewards for completing different levels of posting quests.
Further additions: Enjoy adjusted Lord's Relic levels, updated Agent Battles against Veille and Mastarius in Inggison and Gelkmaros, as well as the continuation of Kerub's Short Tutorial and the new Wardrobe feature.
Want to learn more?
We did a brief presentation about the update in a stream on Twitch. Take a look now on YouTube and find out everything you need to know! Of course, you can find even more information in our Patch Notes.