FIGHT IN THE HERO BATTLE

Update 8.3 – Now Live on the European Servers!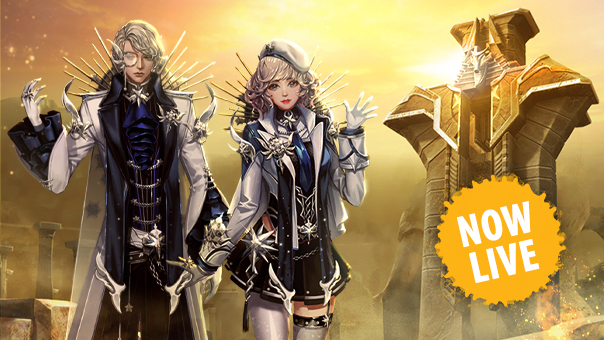 Are you ready for more action and adventures? Because that's exactly what's coming with Update 8.3! Look forward to brand-new content and a raft of improvements:
Hero Battle
The Hero Battle marks a new, exciting addition to our PvP systems! We're removing most arenas and battlefields and replace them with the Hero Battle, where you can choose powerful, ready-made heroes to fight for glory and honour in special battle venues:
Arena of Chaos
Entry: Up to 8 players from level 1 can enter this Hero Battle. Times: Each Monday, Wednesday, Friday and Sunday from 12 PM to 1 PM, 7 PM to 8 PM, and midnight to 1 AM.
Arena of Cooperation
Entry: Up to 9 players (3v3v3) from level 1 can enter this Hero Battle. Times: Each Tuesday, Thursday, Saturday and Sunday from 12 PM to 1 PM, 7 PM to 8 PM, and midnight to 1 AM.
Sprint Character
Since the Sprint Character grants you a fully equipped level 80 Daeva, there is no need to level up the character manually, which allows you to go into battle straight away. This is especially interesting if you're a new AION player – that way you can get playing without the least delay:
You can create a level 80 hero by clicking on the 'Sprint Character' button in the character selection (only once per account). This newly created character comes with some high-quality equipment so you can jump straight into the fray and advance quickly!
Aphsaranta Attendance Register
Get a stamp for your Aphsaranta Attendance Register when playing and grab yourself amazing prizes. Receive additional benefits through your daily login bonus. You can claim your rewards daily (only once per account).
World Raid in Aphsaranta
Fight for the Reian tribe and put the Balaur to flight. But be on your guard, there are dangerous new enemies waiting for you: defeat the Apsu Corps scoundrels and their Attack Driller!
All players from level 81 can enter this raid.
The raid starts 12 hours after the world boss Adad has been defeated.
The World Raid only starts in those bases that are occupied by Elyos or Asmodians.
The raid runs for 15 minutes.
The raid is over if the NPC who is trying to stop the Attack Drillers dies.
Aphsaranta Treasure Hunt
Lake Pledge is now the site of the Aphsaranta Treasure Hunt. Only if you're quick enough and use your abilities wisely will you be able to bag all the rewards. Have you got what it takes to sweep the board?
Special teleporters and Apsu's Ruins Treasure Chests appear all throughout Aphsaranta – but only for 15 minutes. If you don't find them during this time, try again in 14 to 20 hours when they suddenly reappear.
You'll even receive a special buff the first time you open one of Apsu's Ruins Treasure Chests. You can get more treasure chests if you use the special teleporter to reach the final destination.
Matchmaking Improvements
Many players have wished for improvements to our matchmaking system, so here they are! Entering instances for PvP and PvE content will be easier than ever.
But that's not all: get ready for further changes in Aphsaranta and in the Lugbug Missions. You can find the complete details on all changes in the patch notes.