Update 5.4: The Homeland in Danger

Hunt down monsters and defeat them on the battlefields!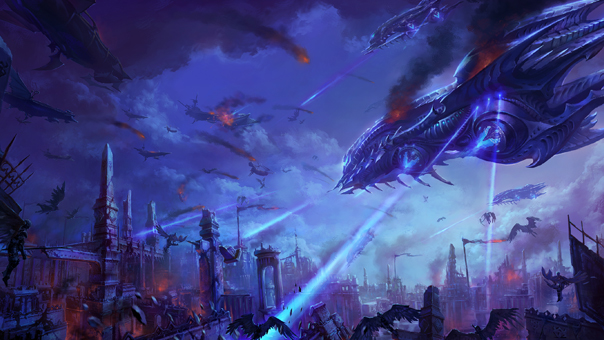 Atreia is being shaken by a terrible power. As the Aetheric Field grew weaker and weaker, Ereshkigal seized tremendous powers. Now she's dispatching Dredgions to Sanctum and Pandaemonium to defeat you in your homeland. Ride into epic battle with your brave friends and repel the invaders.
Experience exciting new features in update 5.4 – now on the European servers!
What awaits you:
Command the battlefield!
Ereshkigal is sending her henchmen into the very heart of your homeland. Join up to 384 companions from your faction to face up to the threat posed by the dark Balaur Lord. Leap into a perilous battle on the battlefields in Sanctum and Pandaemonium and defend your beloved capitals! When the time is ripe, form up for a counterattack to avenge this cowardly ambush.
You can find more information on the battlefields here.
Hunt down monsters
Become famed monster hunters: the new Book of Monsters will accompany you on your adventurous hunt and be of good service to you. You'll hunt down various monsters in Nosra and Esterra and record them in your Book of Monsters. Every entry in the book can be extended up to 5 levels. Successful monster hunters can look forward to rewards in the form of additional experience points.
You can find more information about the Book of Monsters here.
Discover additional cool features such as rapid equipment switches. You can find more information on update 5.4 in the patch notes.
Healing Camp
Running: 05/04 to 12/04
Just right for the new update 5.4, the Healing Camp once again welcomes all Daevas who require a little reinvigoration from 5th to 12th April. Pay the doctors and nurses in the towns a visit and receive treatment in the form of scrolls and potions.
You can find an overview of the staff and rotas here.
Have lots of fun!
The AION Team