Announcing the Instance Pioneers

These heroes were the first to overcome the new instances!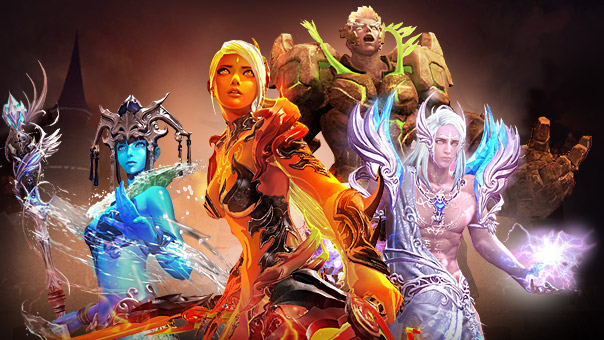 Update 5.1 is here and alongside plenty of new features, it has also brought more instances with it. Today we're announcing the heroes who were the first on their server or in all of Atreia to successfully complete the instances 'Garden of Knowledge', 'Kroban Base' and 'Rift of Oblivion'. Alone or in a group, they have proven their strength and beaten their competition. Their rewards will be sent out in the coming days via the in-game post.
The list of Pioneers is complete – winners from all servers have claimed their rewards. Congratulations again Daeva!
We'd like to take a moment to thank all the Daevas who took part, and hope you all continue to have fun in the new instances!
---
First in Atreia
Instances
First in Atreia
Server
Rift of Oblivion
Jerrydafuq
Loki
Kroban Base
Reapgamer (RoxxorClub)
Yunjii (RoxxorClub)
Tornare (RoxxorClub)
Behappy (RoxxorClub)
Sowka (RoxxorClub)
Yoicho (RoxxorClub)
Hyperion
Hyperion
Hyperion
Hyperion
Hyperion
Hyperion
Garden of Knowledge
Justlikeu (Showbiz)
Fatball (Showbiz)
Insec (Showbiz)
Azuzi (Showbiz)
Iana (Showbiz)
Ikigai (Showbiz)
Antriksha
Antriksha
Antriksha
Antriksha
Antriksha
Antriksha
Both Group Instances
(Garden of Knowledge and Kroban Base)
Justlikeu (Showbiz)
Fatball (Showbiz)
Insec (Showbiz)
Azuzi (Showbiz)
Iana (Showbiz)
Ikigai (Showbiz)
Antriksha
Antriksha
Antriksha
Antriksha
Antriksha
Antriksha
---
First on Own Server: Deyla
Instances
First on Own Server
Rift of Oblivion
Astralz (BandOfBrothers)
Kroban Base
Immortal (Fifth Dawn)
Primroses (Escape The Fate)
Kusq (Empyrium Transcendence)
Afterlife (Arigato)
Jyoto (Arigato)
Beowulf (Arigato)
Garden of Knowledge
Seyfu (Insane But Cute)
Cyv (The hated and the few)
Oneawesomesm (Syntagma)
Shunryu (Hostility)
Amanne (The hated and the few)
Trolex (Hostility)
Both Group Instances
(Garden of Knowledge and Kroban Base)
Seyfu (Insane But Cute)
Cyv (The hated and the few)
Oneawesomesm (Syntagma)
Shunryu (Hostility)
Amanne (The hated and the few)
Trolex (Hostility)
---
First on Own Server: Hellion
Instances
First on Own Server
Rift of Oblivion
Minusuku (Pacto Oscuro)
Kroban Base
Cookieyuki (Yuki Family)
Mizuyuki (Yuki Family)
Smietanka (Yuki Family)
Chocoyuki (Yuki Family)
Marmaru (Yuki Family)
Elayuki (Yuki Family)
Garden of Knowledge
Cookieyuki (Sad Pandas)
Teyata (Never Good Enough)
Chocoyuki (Sad Pandas)
Marmaru (Never Good Enough)
Elaryia (Running Retards)
Jielith
Both Group Instances
(Garden of Knowledge and Kroban Base)
Cookieyuki (Sad Pandas)
Teyata (Never Good Enough)
Chocoyuki (Sad Pandas)
Marmaru (Never Good Enough)
Elaryia (Running Retards)
Jielith
---
First on Own Server: Antriksha
Instances
First on Own Server
Rift of Oblivion
Sideral ( Save A Cow Eat A Panda )
Kroban Base
Eldhar (Fall Of Abyss)
Phoenixsoul (Fall Of Abyss)
Shotheadx (Fall Of Abyss)
Leatrixe (DOWN)
Pattrice (Astralis)
Cptczikita (Fall Of Abyss)
Garden of Knowledge
Justlikeu (Showbiz)
Fatball (Showbiz)
Insec (Showbiz)
Azuzi (Showbiz)
Iana (Showbiz)
Ikigai (Showbiz)
Both Group Instances
(Garden of Knowledge and Kroban Base)
Justlikeu (Showbiz)
Fatball (Showbiz)
Insec (Showbiz)
Azuzi (Showbiz)
Iana (Showbiz)
Ikigai (Showbiz)
---
First on Own Server: Loki
Instances
First on Own Server
Rift of Oblivion
Jerrydafuq
Kroban Base
Zooka (Lustful Fairies)
Divinea (Lustful Fairies)
Zoona (Lustful Fairies)
Dycee ( Break the Silence )
Taiyto ( Break the Silence )
Caderea (The Chosen Few)
Garden of Knowledge
Demolay (Carried by Jotun)
Zhey (Carried by Jotun)
Shiinala (Carried by Jotun)
Wannabeshiroe (Carried by Jotun)
Sorayami (Carried by Jotun)
Scaaaaaaaaar (Carried by Jotun)
Both Group Instances
(Garden of Knowledge and Kroban Base)
Demolay (Carried by Jotun)
Zhey (Carried by Jotun)
Shiinala (Carried by Jotun)
Wannabeshiroe (Carried by Jotun)
Sorayami (Carried by Jotun)
Scaaaaaaaaar (Carried by Jotun)
---
First on Own Server: Thor
Instances
First on Own Server
Rift of Oblivion
Sindreya (Death n Decay)
Kroban Base
Acetea (Auenland Reloaded Killaz)
Flurry (The Prodigy)
Headnshoulders ( Kemuri )
Antroxx (Klingonen Boggle)
Rylu ( Kemuri )
Yaeii
Garden of Knowledge
Sindreya (Death n Decay)
Shocx (Death n Decay)
Hecx (Death n Decay)
Kysani (Death n Decay)
Yikari (The Prodigy)
Sucx (Death n Decay)
Both Group Instances
(Garden of Knowledge and Kroban Base)
Sindreya (Death n Decay)
Shocx (Death n Decay)
Hecx (Death n Decay)
Kysani (Death n Decay)
Yikari (The Prodigy)
Sucx (Death n Decay)
---
First on Own Server: Urtem
Instances
First on Own Server
Rift of Oblivion
Shemalx (INSOMANIAK)
Kroban Base
Moby (Ryuu ga Waga Teki wo Kurau)
Chancee (Roukmouth Player)
Godstoneeeeeee (PWR)
Ajau (Ryuu ga Waga Teki wo Kurau)
Isica (Born To Fail)
Maeri (Roukmouth Player)
Garden of Knowledge
Ichiro (Worst DpS EU)
Flyoss (Shiny Princess Kingdom)
Larvayne (per la chancla)
Epsi ( S R )
Florilax (Worst DpS EU)
Princessiziah (JustInTime)
Both Group Instances
(Garden of Knowledge and Kroban Base)
Ichiro (Worst DpS EU)
Flyoss (Shiny Princess Kingdom)
Larvayne (per la chancla)
Epsi ( S R )
Florilax (Worst DpS EU)
Princessiziah (JustInTime)
---
First on Own Server: Hyperion
Instances
First on Own Server
Rift of Oblivion
Yura
Kroban Base
Reapgamer (RoxxorClub)
Yunjii (RoxxorClub)
Tornare (RoxxorClub)
Behappy (RoxxorClub)
Sowka (RoxxorClub)
Yoicho (RoxxorClub)
Garden of Knowledge
Supaaaaaa (Frozen Moon)
Sochou (RpZ Calindi)
Alphaeon (The Creww)
Irysya (Eden Corp)
Akagii (Nocta Hemata)
Owno (Eden Corp)
Both Group Instances
(Garden of Knowledge and Kroban Base)
Supaaaaaa (Frozen Moon)
Sochou (RpZ Calindi)
Alphaeon (The Creww)
Irysya (Eden Corp)
Akagii (Nocta Hemata)
Owno (Eden Corp)
---
First on Own Server: Barus
Instances
First on Own Server
Rift of Oblivion
Aveax (OldSchool)
Kroban Base
Jinema (Hades Breath)
Elyen (No Fear My Friend)
Fainweed (Hades Breath)
Lajf
Krohn (Fake Taxi)
Huccii (Fake Taxi)
Garden of Knowledge
Versi (Your DPS is NOTHING)
Eruannriel (Oops You See Double)
Aiase (Oops You See Double)
Balinx (hACKERS)
Shenlou (Enemy)
Maiyshade (Oops You See Double)
Both Group Instances
(Garden of Knowledge and Kroban Base)
Versi (Your DPS is NOTHING)
Eruannriel (Oops You See Double)
Aiase (Oops You See Double)
Balinx (hACKERS)
Shenlou (Enemy)
Maiyshade (Oops You See Double)